Improved lighting at Rainhill station increases satisfaction
A new and innovative lighting system at one of the UK's most well-known railway heritage sites is pushing Northern Rail's pioneering approach to sustainability into the limelight. In an interview for Global Railway Review, Euan Hilton, Utilities Contracts and Data Manager at Northern Rail, provides more information on how the operator has improved lighting at Rainhill station and thus increased customer and employee satisfaction…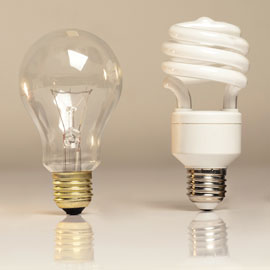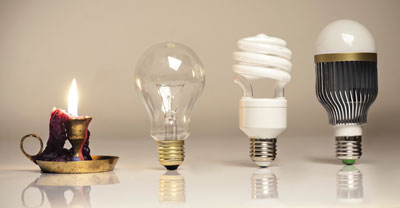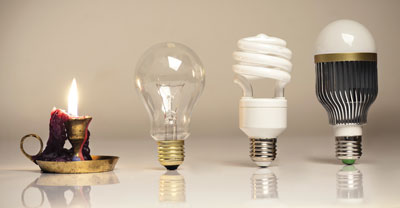 A new and innovative lighting system at one of the UK's most well-known railway heritage sites is pushing Northern Rail's pioneering approach to sustainability into the limelight. In an interview for Global Railway Review, Euan Hilton, Utilities Contracts and Data Manager at Northern Rail, provides more information on how the operator has improved lighting at Rainhill station and thus increased customer and employee satisfaction.
Northern Rail (Northern), a Serco and Abellio joint venture is the largest train operator in the UK; managing 464 stations, operating 2,500 services a day and carrying 96 million customers every year. With such a large and varied network, Northern has been smart in how it drives innovation for its customers while continuing to be a company which takes its commitment to tackling climate change seriously.
Engineering innovation and design has evolved dramatically in the past 10 years; none more so than the advancement in the environmental implications of a growing network of trains and sustainability plays a key part in helping Northern deliver its vision of being a railway the North can be proud of.
It was recently awarded Platinum status in the Business in the Community (BITC) Environment Index, the highest possible status, thanks to its continued success in considering environmental factors when making decisions across the business.
With a score of 97%, against an average of 77%, Northern is setting its stall out to be recognised as not only the largest but also the UK's most sustainable train operator.
Shedding light on sustainability
One such scheme to reduce the company's carbon footprint and which has earmarked Northern's progressive approach to sustainability is the new energy efficient lighting system installed at Rainhill station in Lancashire.
Rainhill is a station steeped in railway heritage and not the most obvious choice of location for a new energy efficient technology to be installed. It was the scene of the first locomotive trials in 1829 and became synonymous with the industrial evolution of the steam era. An open competition, the trials tested five engines, running back and forth along a mile length of track through Rainhill. Every enthusiast knows that only Stephenson's Rocket would complete the trials, kick starting a railway relationship with the Stephenson's which would go on to shape the conception of the Liverpool & Manchester Railway.


Northern's Utilities Contracts and Data Manager, Euan Hilton explains why Rainhill was chosen: "Unfortunately, some lighting at the station had previously been damaged by vandals and feedback from colleagues was that the current lighting was not illuminating some areas of the station sufficiently. Although it might have been deemed a challenge, we wanted to install LED lighting at Rainhill to show that new technology could be fitted in a building of historic interest, running new beside old without detriment to the structure itself."
Light Emitting Diode or LED lighting is a fantastic way to reduce energy consumption. Not only does modern LED lighting improve the overall quality of lighting when metal halide or sodium luminaires are installed but it also reduces maintenance hours and in turn cost on the lamps themselves.
Euan explains: "LEDs can be easily dimmed and switched on and off via sensors, which again allows us to gain further energy savings. This additional control also allows us to minimise light pollution where required and of course, wastage. We chose Rainhill station as it meant we could see how the new technology ran alongside an older building, as many newer stations already have modern lighting installed. We also recognised that the lighting at Rainhill had suffered due to vandalism and feedback from our customers and employees told us they didn't feel the station was illuminated adequately. Thankfully, during the Co-op Energy Conference, myself and a colleague were introduced to Dexeco Solutions, a company already approved by Network Rail and discussions started from there. Dexeco was able to offer the most suitable equipment needed to solve the lighting issues at Rainhill and the additional inbuilt individual controls really gave them an edge over their competitors. PICOW were an obvious choice to work with on the installation, as a local company to the area, they knew the station and its requirements well having worked with us there previously and they offered a flexible approach to fit in with the changing needs of the project. Northern' Facilities Manager Peter Reed worked alongside PICOW on the installation. A solid working relationship and an experience of working together previously helped the process progress smoothly and without any issues."


Dexeco made sure the installation stayed on scope by matching the existing out-going light fittings with the new LED fittings. This ensured that infrastructure such as columns and wiring did not require any modification and allowed the installation to be simple, quick and low cost. Integral sensors in the LED fittings also ensured the control aspect of the lights could be introduced without the added time and expense of installing BUS wiring or BMS controls.
As with any project where the station environment is being changed or modified, there were challenges to overcome. The biggest task was to insure this installation of new technology into a heritage building didn't cause any detrimental effects; to either the building's overall structure or its traditional charm. Energising the individual dimming controls on the external lights was also something the project team wanted to monitor closely as these custom settings would be influenced by the natural effects of daylight.
"We worked closely throughout the project with our employees at Rainhill station and kept local managers up-to-speed as we progressed," says Euan. "Whether it was a quick phone call, email or even calling by in person to discuss the project, it was vital we kept everyone afloat with the latest developments on-site. Right up to energisation of the dimming of the external lights, we consulted the business and garnered strong unanimous support for the project."
Dexeco paid close attention to compatibility between the fittings on the existing columns to make the installation process go smoothly and there was no additional need to access the light fitting to make any terminations.
Four Dexeco products were used on the installation to reflect the four different areas of the stations which required improved lighting. Each area came with its own specification and requirements which reflected its use by customers and employees – see the four Lighting Detail boxes within this article.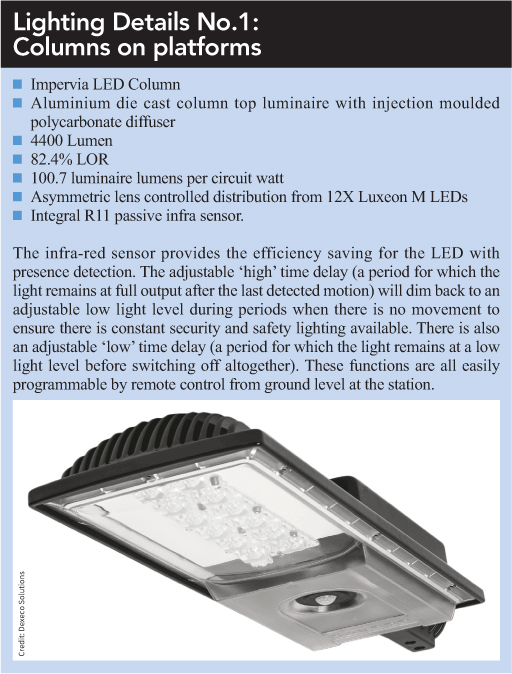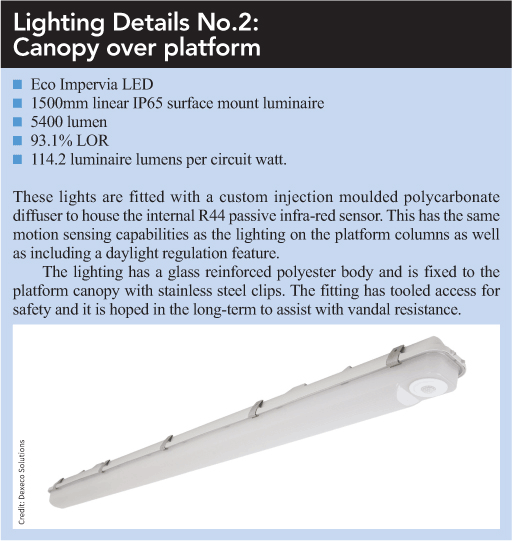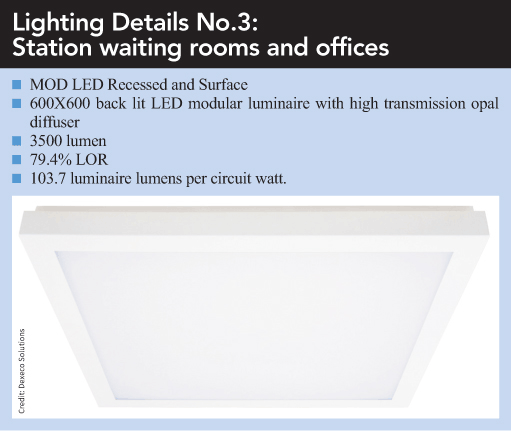 The integral sensor offers motion detection and there is a bright out control with adjustable high time delay and light level.
"Since installation, from August to November, we have been monitoring energy levels closely at Rainhill," says Euan. "Since we activated the motion sensors on the lighting, we've seen a 56% reduction in energy usage for the whole station, which is a fantastic result, not only for us and our sustainability targets but also for Dexeco's innovative solution. Other than the reduced power consumption of the LED source, the sensors ensure that the lights are only ever operated at full output when passengers or trains are present. This in turn ensures that the majority of the time, energy consumption is minimal and unoccupied areas are only lit to a minimum level for safety and security reasons."
Shining results
Northern has received some excellent feedback on the changes at Rainhill, not only from its own employees who work at the station seven days a week, but also from customers who use the station regularly.
"It's been great to hear those who benefit most from the lighting improvements at the station feedback to us. Customers have already remarked how the station looks and feels so much brighter and that the waiting room is more pleasant to sit in. Most importantly, they are pleased to see we've been investing in their station. Our people have also noticed a big change and were surprised how something such as lighting could change their working environment for the better. We're now looking at how we can take these energy savings forward in the business to reflect on our overall sustainability targets by looking at other locations on the Northern network."


About the author
Euan Hilton is the Utilities Utilities Contracts and Data Manager for Northern Rail. He has introduced Smart Metering to the company's estate for both electricity and gas and is currently undertaking a number of projects aimed at reducing the consumption of all utilities, including the introduction of new technologies to the railway. Euan is part of Northern's successful sustainability team which recently won the award for Sustainability in the 2014 North of England Excellence Awards.
Related topics
Related organisations