Government commits to rail industry apprenticeships
The UK government has pledged to create 30,000 road and rail industry apprenticeships during this Parliament. As part of a £70 billion plan to improve the UK transport infrastructure, the government has pledged work with industry to create 30,000 apprenticeships in the rail and road sector, in order to deliver a sustained and lasting legacy […]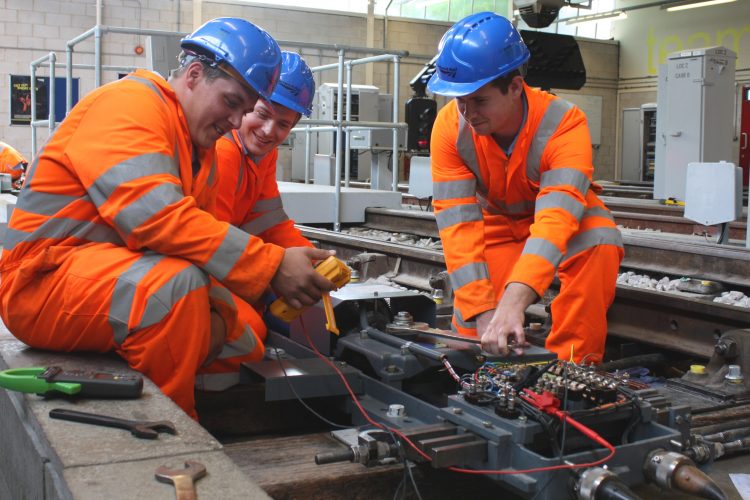 The UK government has pledged to create 30,000 road and rail industry apprenticeships during this Parliament.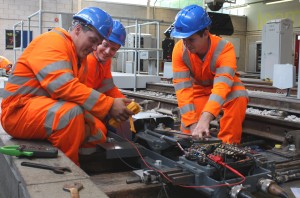 As part of a £70 billion plan to improve the UK transport infrastructure, the government has pledged work with industry to create 30,000 apprenticeships in the rail and road sector, in order to deliver a sustained and lasting legacy of skills and opportunity for people across the UK.
Speaking on a visit to the National Training Academy for Rail in Northampton, the Secretary of State for Transport, Patrick McLoughlin announced the appointment of Terry Morgan CBE to develop a transport and infrastructure skills strategy, to help the transport industry ensure a continuous pipeline of skilled workers.
The skills strategy will set out how government and industry will:
deliver on its ambition for 30,000 apprenticeships in roads and rail over the 5 years to 2020, working together with supply chain partners
ensure the right mix of apprenticeships are on offer, including many at higher levels with training in new technologies
explore upskilling the existing workforce to meet new challenges
encourage greater diversity in the workforce, including attracting more women into engineering
develop a co-ordinated national network of transport infrastructure skills colleges to train the transport workers of the future
Patrick McLoughlin said: "Training our rail and road workforce is essential if we want to build a transport network fit for the future. That is why I have invited Terry Morgan to join us in this vital work.
"As the chairman of Crossrail, and the forthcoming National College for High Speed Rail, Terry has a track record of building skills in the transport sector. He is ideally positioned to work with industry to deliver a transport and infrastructure skills strategy.
"I want to see every part of Britain benefiting from a growing economy and that is why our investment in transport won't just help people get around, it will help them get on."
Terry Morgan added: "I'm really pleased to be leading this work. It's vital that we develop the workforce of the future, ensuring the transport industry has the right people in the right place at the right time, and crucially with the right skills, to deliver this unprecedented programme of infrastructure work. I'm very much looking forward to working with colleagues across the road and rail industry, and to leaving a legacy of skills for the future."
Due to open in autumn 2015, National Training Academy for Rail in Northampton will boost expertise and skills levels in rail engineering. Apprentices will gain vital training in specialist traction and rolling stock and many others will learn the skills they need to respond to new technology in the UK rail industry.
Neil Robertson CEO of National Skills Academy for Railway Engineering (NSARE) said: "Over 200,000 experienced staff currently run Britain's railways. However, an ageing workforce together with a leap in the application of digital and modern technologies means there are now significant demands on the number and type of skills we need for the future.
"The curriculum at the National Training Academy for Rail (NTAR), developed jointly by NSARE with Siemens, has been developed to provide advanced technical knowledge in traction and rolling stock as well as broader leadership, digital, and commercial skills to meet these changing demands. We welcome the government's commitment to creating a workforce with the advanced skills now required in this industry.
Commenting on today's announcement, Steve Scrimshaw, Managing Director of Siemens Rail Systems, said: "At Siemens we have long recognised the need and importance of developing the UK skills base for the rail sector and it is fantastic to once again see the continued support from the Department for Transport as expressed by the Secretary of State Patrick McLoughlin today. Addressing the significant skills shortage in the sector at a time of unprecedented investment is a priority for us as an organisation and our support for the National Training Academy for Rail and our partners at NSARE is a testament to this. This academy will play a key part in transforming the way in which the UK develops skills across the rail sector and we are proud to play such a key role in it."
Mark Carne, Network Rail Chief Executive added: "We need a highly skilled workforce to enable us to deliver our multi-billion pound railway upgrade plan and a network fit for the 21st century. That's why we have a steadfast commitment to training and developing everyone from apprentices and graduates to up-skilling our 35,000-strong workforce and others across the industry with the latest digital, technical and engineering skills. We know this investment pays off with 83% of the 2,000 apprentices trained since 2005 still working for us and contributing to a safer and better railway every day."
Related topics
Related organisations