Rail passengers to benefit from train punctuality app
UK rail industry leaders have unveiled a train punctuality app designed to allow passengers to track train promptness and reliability.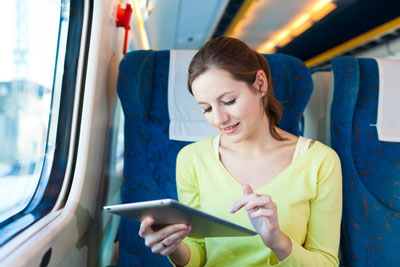 At a Rail Delivery Group conference in London on 22 October 2015, leaders of the UK rail industry revealed a new free 'My Journey' app and website, designed by Glow New Media, that calculates how often a specific train was on time over several months for services up and down the country. It is hoped the new app will give customers more information on which train to catch or route to take. For example, if a customer wanted to see how an early morning train had performed in the last week, month or up to a year My Journey will show the percentage of journeys when it  arrived on time or early, or how many times it was more than 15 minutes late or cancelled.
Train punctuality app allows customers to make an informed decision on rail journeys
The new train punctuality app will be available to use on smartphone, tablet or computer from April next year.
Chris Burchell, chair of the rail industry's National Task Force, said: "We are using and developing cutting-edge technology that gives our customers better and more accessible information. Giving people better and timely information, especially when there is disruption to services, is one of our top priorities.
"Passengers will soon have at their fingertips all the facts and figures about punctuality and reliability, information that will help customers to decide which trains to catch and where to commute from."
"This is a positive step in helping to ensure passengers are at the heart of everything the rail industry does."
Commenting on today's unveiling, Rail Minister Claire Perry said: "Our plan for passengers is to build a 21st Century railway that provides better journeys for all, and innovative new apps like My Journey have an important role to play in delivering this. I've been clear that I want to see the industry improve the information it gives to customers, and this is a positive step in helping to ensure passengers are at the heart of everything the rail industry does."
Phil Blything, Director of Glow New Media, said: "By making historic train performance data open, accessible and relevant the app will help passengers around the country to make better travel decisions.
"We're thrilled to have been selected and this represents a major strategic win for Glow, further consolidating our position as Transport Systems Innovators."
Further information on rail performance can be found here.
Related topics
Related organisations