ScotRail Alliance announces £475 million train improvement programme
ScotRail Alliance have launched the largest-ever train improvement programme that will provide new trains, extra seats, improved accessibility and enhanced facilities over a seven year period. The ScotRail Alliance, in the presence of Derek Mackay, Minister for Transport & Islands, have launched a £475 million train improvement programme which will see 75 percent of its […]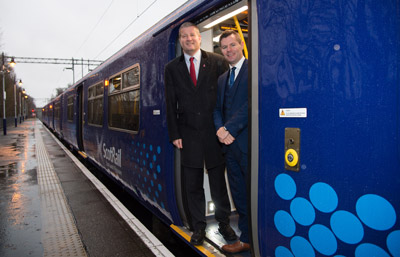 Derek Mackay, Minister for Transport & Islands and ScotRail Alliance MD Phil Verster on board the first of ScotRail's Class 318 fleet to be fitted with at-seat power sockets
ScotRail Alliance have launched the largest-ever train improvement programme that will provide new trains, extra seats, improved accessibility and enhanced facilities over a seven year period.
The ScotRail Alliance, in the presence of Derek Mackay, Minister for Transport & Islands, have launched a £475 million train improvement programme which will see 75 percent of its train fleet either replaced or fully refurbished over the next seven years.
ScotRail Alliance to introduce Class 320 trains from early 2016
Speaking as they unveiled a newly-refurbished Class 318 train at Milngavie station, Derek Mackay, Minister for Transport & Islands, and ScotRail Alliance managing director Phil Verster confirmed that during the next three years:
180 carriages will be added to the fleet – bringing the total to almost 1,000
Two-thirds of current ScotRail trains will be refurbished by 2018
More than 17,000 at-seat power points will be added to trains
346 more trains will be equipped with free wifi
And seven Class 320 trains will be introduced in Scotland from early 2016.
Mr Verster said: "This is the biggest improvement programme in ScotRail's history. Over the course of the next three years we will bring in new trains, upgrade our existing fleet and deliver exciting upgrades like better wifi and at-seat power points. This is an extraordinary programme of works that will give Scotland a railway of which we can be truly proud.
"I know that one of the biggest issues concerning our customers is busy trains. I hope, with the programme we are announcing today, people will see we are taking action. Alongside the massive projects we are currently delivering, this programme will bring more seats, shorter journey times and a rail service that is better for our environment.
"We are not just about running metal boxes up and down tracks. We want to connect people with jobs, business with customers and tourists with destinations. Our vision of Connecting Scotland is about using the railway to help our country to grow and prosper. The transformation of our fleet in the next few years will help deliver that."
"This is the biggest improvement programme in ScotRail's history"
Transport Minister, Derek Mackay, said: "The Scottish Government wants to see more people choose to leave their car at home and make use of public transport. That is why we are investing a record £5 billion in our rail network, including significant improvements to rolling stock, to ensure that infrastructure keeps pace with demand and that Scotland's rail passengers are offered the very best value for money.
 "When completed, this major train improvement programme will mean that 75 percent of trains on our railways are either brand new or newly refurbished, meaning all passengers across the network will have access to more modern, comfortable and accessible trains."
Eversholt Rail will be carrying out the refurbishment programme and providing the seven additional Class 320 trains.
Mary Kenny, chief executive of Eversholt Rail Group, said: "We are delighted to be working in partnership with the ScotRail Alliance to help deliver an improved train fleet. The Class 318 refurbishment programme, along with providing the extra Class 320 trains that will enter passenger service from early next year, demonstrates the importance of Scotland to us and our commitment to delivering the best value and highest quality rolling stock to our customers and their rail passengers."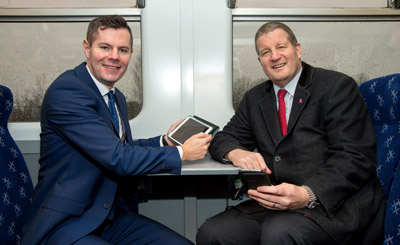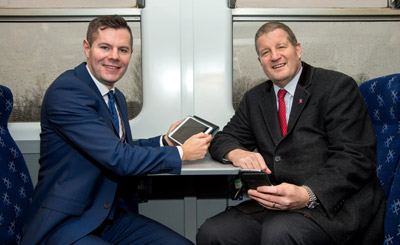 ScotRail's fleet of 21 Class 318 train will be refurbished inside and out, with new accessible toilets, wheelchair spaces and companion seating. Further enhancements will also see power sockets fitted for the first time, with cycle storage, CCTV and free wifi to follow next year. The trains will be used on Strathclyde routes linking Balloch/Milngavie/Dalmuir to Airdrie/Cumbernauld/Lanark/Larkhall via Glasgow Queen St and Glasgow Central Low Level.
Seven class 320 trains will be phased into service in early 2016 followed by the first of 70 new Hitachi electric trains in autumn 2017. The electric fleet will operate on Edinburgh to Glasgow via Falkirk High line with the remainder appearing across the Central Belt the following year.
In addition 27 fully refurbished High Speed Trains are being introduced onto the Glasgow–Aberdeen, Edinburgh–Aberdeen, Glasgow–Inverness, Edinburgh–Inverness and Aberdeen–Inverness inter-city routes during the second half of 2018. Seating capacity is expected to increase on these services by an average 36 percent.
Related topics
Related organisations