Stadler unveils EC250 'Giruno' low floor high-speed train
Stadler and operator SBB have unveiled the EC250/Giruno low floor high electric multiple unit (EMU) which will enter service on the Basle/Zürich – Milan route via the Gotthard Base Tunnel.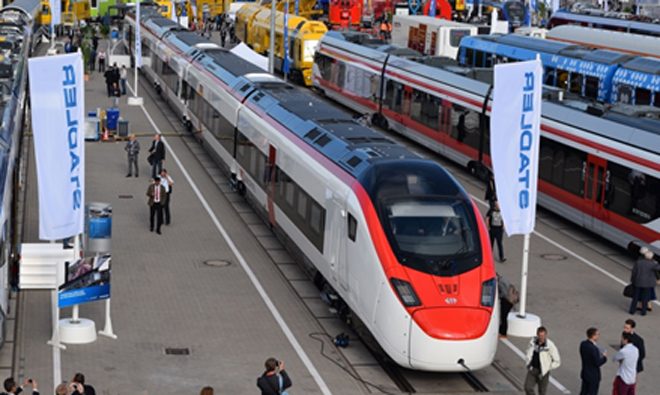 Image: Swiss Rail Association
The new Stadler EC250 'Giruno' EMU was unveiled at InnoTrans 2016 by CEO of Stadler, Peter Spuhler and CEO of Swiss Federal Railways (SBB), Andreas Meyer. The new Eurocity train will enter service at the end of 2019 on the route connecting Basel/Zürich with Milan via the Gotthard Base Tunnel.
EC250 provides step-free access from platform heights of 55 and 76 cm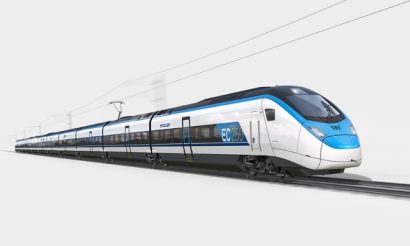 Based on the Stadler FLIRT, the 'Giruno' – as named by SBB – incorporates the operational requirements of the new Gotthard Base Tunnel and provides step-free access from both railway platform heights of 55 and 76 cm. The 202m long vehicle has a maximum operational speed of 250 km/ and can offer seats for 405 passengers: 117 in the 1st Class and 288 in the 2nd Class.
The interior of the EC250 includes a state-of-the art lighting concept for a bright interior, WLAN 4G-/3G- cell phone signal booster for good reception, power sockets for all seats, large overhead luggage racks and gender-separated toilets. Furthermore, there are multifunctional and bicycle storage areas.
Required power is transmitted to the track by four motorised bogies, where both wheelsets of the bogies are powered. The maximum power on the wheel-rims is 6000 kW. On the roof of the train four current collectors are mounted. The trainsets can be operated in double-traction too. Beside Switzerland, the EC250 will be homologated for operation in Germany, Austria and Italy.