Alstom inaugurates first locomotive repairing centre in Kazakhstan
Alstom has inaugurated its first repairing centre in Astana, Kazakhstan. The corrective and overhaul preventive works, including spare parts and repairing of traction and brake systems, for the Prima T8 (KZ8A[1]) and Prima M4 (KZ4AT[2]) locomotives will be performed there for a period of 25 years.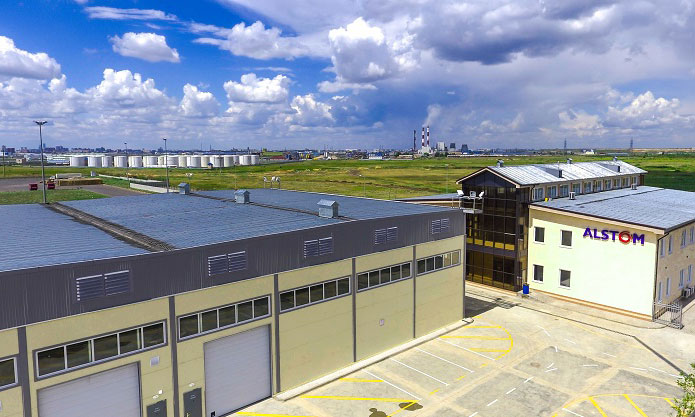 With a total surface area of 2,660m2, the repairing centre comprises a repair and testing shop, warehouse, a spare parts shop and office space. The teams will be able to maintain products manufactured by Alstom, as well as equipment produced by other companies, such as pantographs, transformers and braking systems. The number of employees will grow from 18 including engineers and administrative staff today to 30 by the end of 2020.
"The inauguration of the first repairing centre in Kazakhstan is a very important milestone for Alstom in the country."
"Through implementation of new technology and developing local expertise, we are proud to get Kazakhstan's industrial base to a new level, which opens new promising prospects for the country as an important hub linking Europe, Middle East, Asia and Russia through new Silk Way."
"Being the only repairing centre for modern traction and braking system in the Central Asian region, Alstom strengthens its long presence, developing local competencies, contributing to the economic development of Kazakhstan and opening new opportunities for export in neighbouring countries," said Bernard Peille, Managing Director of Alstom in CIS.
Alstom is present in Kazakhstan with more than 600 people, two Joint Ventures and two plants, one in Astana for locomotives manufacturing and maintenance; and KazElectroPrivod in Almaty for the production of point machines. Alstom is the only manufacturer of electric locomotives and point machines in the Central Asian and Caucasian region and a major contributor to the revitalisation of its rail industry and the development of its economy.
With 14,000km of track, the Kazakh railway network is the world's third biggest network using the 1,520mm track gauge and represents a substantial market for maintenance activities.
Related organisations
Related regions