Improvements carried out to the Newburyport/Rockport line in Boston
Keolis Commuter Services (KCS) and the MBTA have released a list of network improvement projects completed during the temporary shutdown of service between Salem and Newburyport/Rockport in Boston.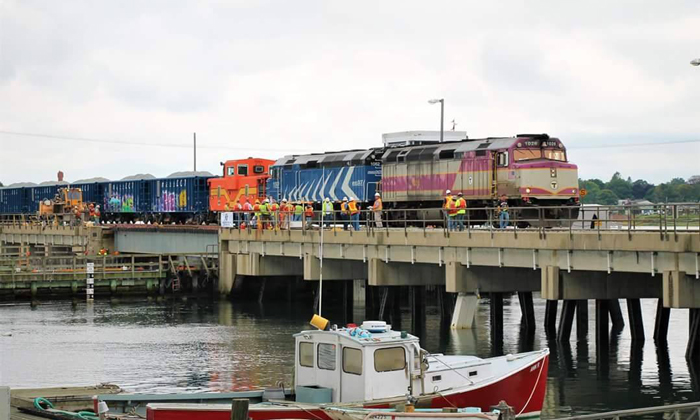 Special work train passing over the Beverly drawbridge (credit: MBTA Facebook)
The suspension on the Newburyport/Rockport line was required because of the need to replace the Beverly drawbridge, and KCS and the MBTA were able to prioritise other projects to take advantage of the shutdown. In addition to replacing the 132-year-old bridge, KCS, MBTA and other construction teams completed the following work during this suspension:
Modernised track and grade crossing signals at Cabot Street in Beverly and the Ashbury Street and Bay Road intersection in Hamilton
Replaced approximately 12,000 railroad ties between North Beverly and Ipswich, and installed 2,800 tons of ballast
Upgraded sections of the Rockport layover facility
Performed pre-planning work for the replacement of the Gloucester drawbridge
Completely replaced five culverts, and performed other vegetation and drainage maintenance along the two routes.
"I want to thank our passengers for their patience while our teams completed these important and much-needed long-term investments into the commuter rail network," said David Scorey, CEO and General Manager, KCS. "To help ensure service resumes as smoothly as possible over the coming days, we will have crews in place to make minor adjustments as the bridge and other new infrastructure experience the high volume of trains and boats during peak commutes this week."
The track and grade modernisations will help to improve safety while also reducing the likelihood for train delays due to equipment malfunctions. Railroad tie replacements are an important part of general maintenance that will now not be required again on these areas for five-seven years. Upgrades performed at the Rockport layover moving forward will help to partially reduce idling, an initiative to help alleviate concerns from nearby residents.
"The ongoing infrastructure work on the Newburyport/Rockport Line reflects the MBTA's new approach to capital spending," added interim MBTA General Manager Steve Poftak. "This fiscal year alone nearly $800 million is targeted toward projects that will improve reliability and enhance safety throughout the system."
Positive Train Control (PTC) instalment and other projects will continue during the remaining service suspensions – PTC technology improves safety and reduces human error by automatically controlling train speeds, including stopping it in certain situations.