New Virgin Azuma crosses the Scottish border for the first time
Virgin's state-of-the-art Azuma train has visited Scotland for the first time as part of plans to transform Edinburgh-London rail journeys.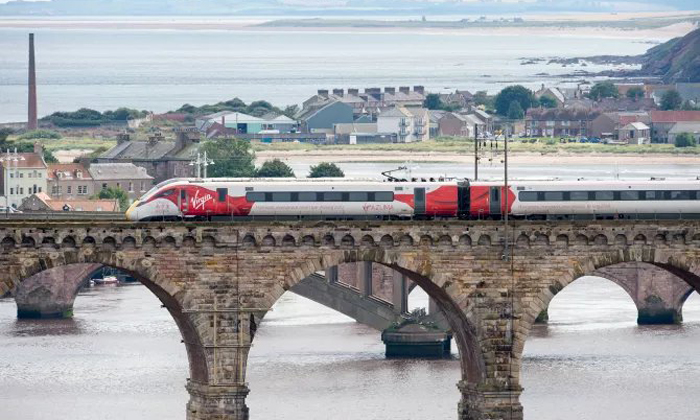 The inaugural run of the new Azuma was made as part of a testing programme by the train's manufacturer, Hitachi, in preparation for the introduction of the 65-strong fleet on the east coast route next year, when virgin plans to accelerate journey times between Edinburgh and London by 22 minutes.
This would bring regular journey times down to four hours.
"The Virgin Azuma will deliver a step-change in services between Scotland and England, taking regular journeys down to just four hours," said David Horne, Virgin Trains' Managing Director on the east coast route. "Having the train visit Scotland for the first time as part of testing is a really important moment and reminds us of the excitement it will bring to UK train travel when it is introduced into service."
The Virgin-designed train is aimed to usher in a new era of comfort and style and has taken its name from the Japanese word for 'East', in homage to its Japanese bullet train technology and the iconic east coast route where it will operate.
Not only will the new trains speed up journey times, they will also boost capacity out of King's Cross by 28% at peak times.
"Making rail an attractive alternative is an ideal way to encourage more people out of their cars and onto greener transport," added Scotland's Transport Minister, Humza Yousaf MSP. "That is why it's great to see Virgin's first cross-border Azuma fleet in Scotland as part of their testing programme which is building towards service introduction next year. This new fleet of trains serving stations all across the north and east of the country offer more opportunities for passengers to travel by rail in the future."
Hitachi is building the Azuma fleet at its purpose built £82 million facility in Newton Aycliffe, County Durham, which employs 900 people.