Virgin Trains marks twentieth year with a record high
Virgin Trains has achieved a record number of passengers on its west coast route between Liverpool and London.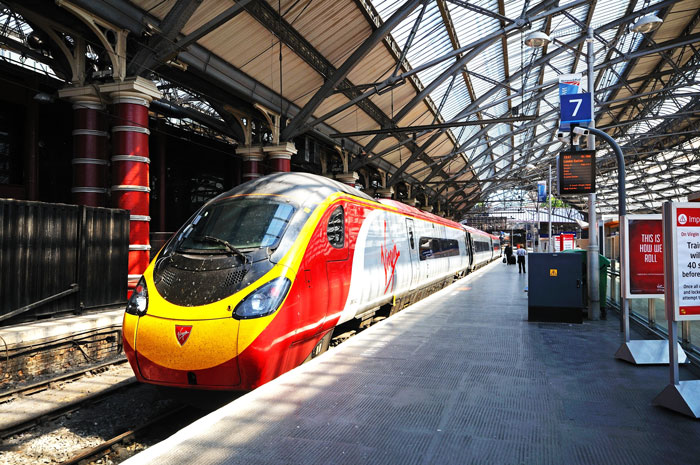 As the intercity operator celebrates 20 years of running the west coast route, latest figures show it carried 1,765,874 customers between Liverpool and London in the period 2016/17 – an increase of 11.2% from the same period last year and a record for the industry.
Record reasons
The new figures have coincided with punctuality reaching its highest ever level since privatisation and the introduction of Virgin's revolutionary new on-board entertainment streaming service, BEAM.
The growing availability of £17 fares between Liverpool Lime Street and London Euston has been key to encouraging customers to take the train and leave their cars at home – both for business trips and holidays.
Liverpool charms
The increase in journey numbers has also coincided with the growing appeal of Liverpool as a destination. In another 'first' for the company, Virgin Trains carried more passengers to the city than the capital (889,000 in 2016/17, 13,000 higher than the number of journeys made from Liverpool to London).
Commenting on the reasons behind the passenger number increase, Max Steinberg, Chief Executive of Liverpool Vision, said: "It's no surprise to see that more passengers than ever have taken the Virgin Trains direct service between Liverpool and to London. The link is crucial for the city and broader city region as it continues to grow as a destination for both leisure and business.
"Recent statistics show that Liverpool is the fifth most visited destination in the UK by overseas tourists, many of whom combine Liverpool and London during their stay. Having a fast, direct service is also key for businesses looking to work between the two cities, particularly ahead of International Business Festival next summer when thousands will be making that journey."
Improvements have driven numbers
Amanda Hines, Virgin Trains' General Manager for North West and Wales services said: "Liverpool is an integral part of our west coast route, a city we have been proud to serve for the last twenty years. In that time journey times have been slashed and service innovations such as BEAM, improved punctuality and more availability of low fares have helped drive strong customer satisfaction ratings and attract more people to rail."
The number of Virgin Trains that arrive within ten minutes of their booked time has increased by eight percentage points to 89% over the last 20 years, due to cooperation with Network Rail and other industry partners."
Over the last year, Virgin Trains has doubled the booking horizon from the industry standard of three months and made M-tickets available across all its west coast services, in addition to becoming the first train operator to offer its customers automatic compensation in the event of a delay.
In June last year, Virgin launched BEAM, the industry-leading app that allows customers to stream more than 200 hours of entertainment including films, box sets and documentaries straight to their device.
Virgin Trains also named one of its flagship Pendolino trains 'Flying Scouseman' earlier this year to mark its 20th birthday and place on record its thanks to the city for their support since 1997.