Virgin Trains customers can now bid for last minute first class upgrades
Virgin Trains customers can now bid on last minute upgrades for first class tickets on east coast services via upgrade app Seatfrog.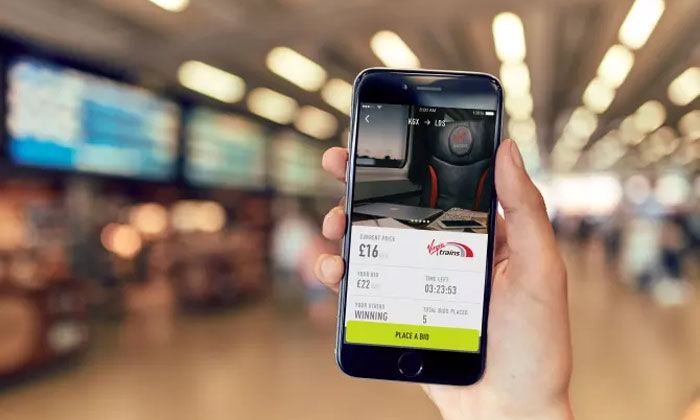 The partnership is a world first for rail passengers and will enable more people than ever to enjoy the perks of first class.
Virgin Trains' customers will be able to upgrade right up to 30 minutes before departure with just a few taps of their smartphone. The app is designed to be completely seamless and easy-to-use, with no extra paperwork, printing tickets or additional fees.
Virgin Trains is the first travel company to bring the technology to its customers, who will compete against each other in an open and honest auction to upgrade their tickets.
The free app works by creating a live, dynamic bidding system for first class seats that would otherwise travel empty. Upgrades can be won up to 30 minutes before departure, with each auction opening approximately 2.5 hours before a train departs from its originating station.
Customers who successfully bid on a first class ticket will be able to enjoy all the luxury benefits of First Class, including complimentary food and drink from a menu curated by James Martin, reclining leather seats, additional legroom, mood lighting, free Wi-Fi and, in selected stations, first class lounges with free Wi-Fi, relaxation areas and refreshments.
Seatfrog is part of the train operator's commitment to making train travel accessible and affordable. Earlier this year, Virgin Trains confirmed that it is participating in a single-leg pricing trial with the Government which will consider alternative ways to guarantee customers simpler fares.
Last minute upgrades will be available on selected Virgin Trains' east coast services for business and leisure travellers from Monday to Friday for journeys between the following stations (and stations in between), with new routes to be added soon:
King's Cross to Leeds including, for example, Doncaster to Wakefield Westgate, and Stevenage to Grantham
King's Cross to Newcastle including, for example, Northallerton to York, and Peterborough to Newark North Gate
King's Cross to Edinburgh including, for example, Berwick upon Tweed to Darlington, and Durham to Dunbar
King's Cross to York including, for example, Grantham to Doncaster, and Retford to Stevenage
Related organisations
Related regions