New Stadler plant in Salt Lake City, USA
Stadler has started building work on a new plant in Salt Lake City.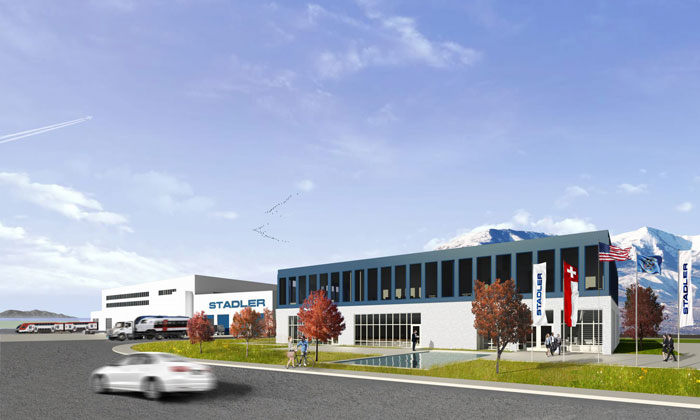 An artist's rendering of the Salt Lake City facility. Credit: Stadler.
The total amount of the investment stands at around 50 million US dollars.
After renting a service plant from the Utah Transit Authority in 2016 to build its TEXRail trains, Stadler has begun construction of its very own Utah plant, which will be used to assemble efficient, lightweight multiple unit trains for the American market.
In June 2015, Stadler received an order from the Fort Worth Transportation Authority for eight new FLIRT trains. The fact that federal funds were being used for the order made it subject to the Buy America Act, and for the first time Stadler was required to find a location in the USA where the TEXRail trains could be built. The infrastructure of the former Union Pacific plant in Salt Lake City was well suited to the requirements of the TEXRail order. The TEXRail FLIRT is the first FLIRT to be built in the USA. 
The decision for a larger production space was prompted by Stadler's contract from Caltrain for the construction of 16 bi-level trains in August 2016. The decision to stay in Utah was based on the state's economic conditions and its political environment which ensured widespread support from the Governor's Office and other authorities in Salt Lake City and Clearfield, as well as in Davis and Salt Lake Counties. The decision also considered Utah's outlook on public transport, the state's proximity to existing customers on the West Coast, and a workforce of enthusiastic and well-trained workers, who after nine months were already 115 strong.
The plant's ground breaking ceremony was celebrated on 13 October by Peter Spuhler, Group CEO and owner of Stadler, and Martin Ritter, CEO of Stadler US, along with Senator Orrin Hatch, Utah Governor Gary Herbert, Salt Lake City Mayor Jackie Biskupski and other guests from the worlds of politics and business.
The new plant lies right off of I-80, five minutes from the international airport and 10 minutes from downtown Salt Lake City. It has its own side track on the main Denver-San Francisco line. The plant has been designed to accommodate around 350 workstations, but can be upgraded on a modular basis at any time. Its 62-acre property boasts 75,000 ft2 of production space for the bogie, main, pre- and final assembly of single- and bi-level trains. In addition to storage and handling areas, test tracks will be set up for the commissioning of the trains. Office spaces and an employee cafeteria are also located on the site.