Scotland's newest station has been opened
As part of the Scottish Government-funded Aberdeen-Inverness Improvement Project (which aims to transform rail travel between the two cities by increasing services and cutting journey times), the new Forres station has been opened.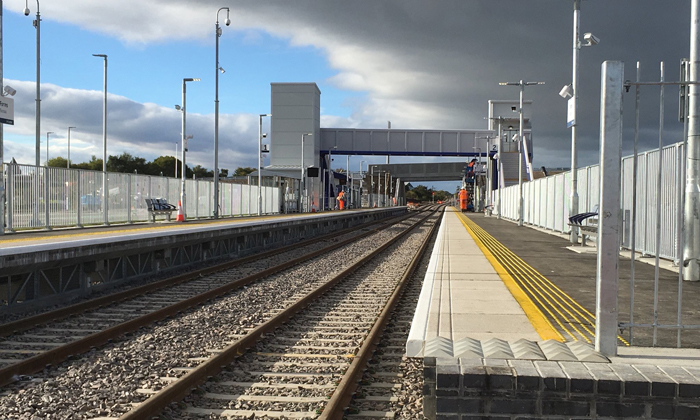 Forres station
As part of the work on the new station the railway was moved onto a straighter, double-tracked, alignment to the north of the old station. Furthermore, improved passenger facilities have been implemented with the station's two platforms being linked by a fully accessible footbridge and lifts.
The station car park has also more than doubled in size to 58 spaces, including three spaces for blue badge holders, four oversized spaces and two charging points for electric cars. A new road bridge over the railway links the station to the town.
"This investment by the Scottish Government in improvements to the line in Moray is hugely welcome and will bring significant benefits to local commuters and rail users," said Local MSP Richard Lochhead. "I know that the community in Forres has been engaged in the project throughout and I'm delighted that their brand new station is here and open to the public. The improvements to our local rail infrastructure is a real boost to commuters and rail passengers locally, as well as to the local economy, and I know everyone is looking forward to shorter journey times on the line."
Improvements at the new station include:
5km of new track in Forres
The new Forres station and link road
2km of new track in Elgin
Extended platforms at Elgin
Upgrading of Elgin level crossing to a full-barrier, CCTV crossing
Removal of redundant signal boxes at Elgin and Forres
Upgrading of signalling systems between Elgin and Inverness.
"It is extremely promising to reach this milestone in the first phase of the Aberdeen and Inverness rail enhancement project," added Minister for Transport, Humza Yousaf. "The Scottish Government's significant investment in relocating the station at Forres, extending the platforms at Elgin, and in improving the signalling will pave the way for faster journeys and more frequent services for those who use this important line regularly.
"The delivery of these works to programme is a testimony to the hard work and commitment of all of those involved. Network Rail will now move forward with delivering the improvements between Aberdeen and Inverurie by the end of 2019."