Record passengers travelling between Scotland and London via rail rather than air
More Scotland-London passengers have chosen rail rather than air travel than at any time in more than 20 years.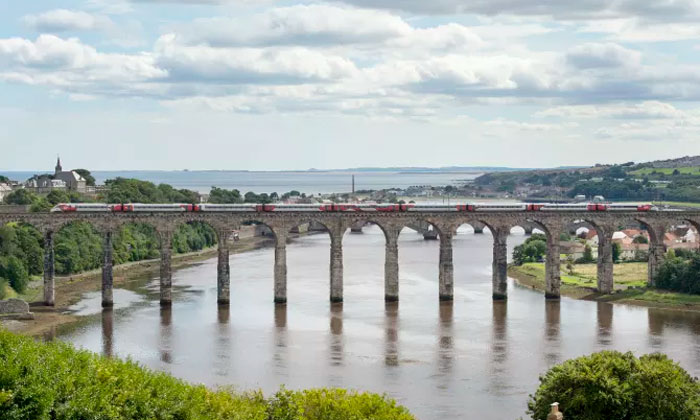 New figures reveal an 18% year-on-year growth in Virgin Trains passengers travelling between Glasgow/Edinburgh and London in June 2017. This leaves Virgin with a 33% share of the air/rail market on the UK's busiest domestic air routes, beating a previous record set in 2014.
The shift coincides with a new report which explores the environmental benefits of train over plane travel.
The research, undertaken by sustainable transport charity Transform Scotland, found that:
Overall air and rail travel between Scotland's Central Belt and London is increasing – but carbon emissions are falling as more people choose train
Virgin Trains' growth on the west coast route between Glasgow and London over the last decade has saved enough CO2 (332,208t CO2) to take 145,000 cars off the road for a year
Further passenger growth on the east coast route between Edinburgh and London can be accommodated whilst still cutting carbon, due to plans by Virgin Trains to win a 50% market share against airlines
Further information, and the report in full, 'A Green Journey to Growth', can be found here: http://transformscotland.org.uk/blog/2017/08/21/new-research-shows-shift-from-air-to-rail-has-cut-carbon-in-scotland-london-travel-market/
Virgin Trains has implemented a string of customer service improvements introduced over the last two years.
On the east coast route, Virgin has completely refurbished its train interiors and introduced 25 additional direct London-Edinburgh services per week, while the west coast route has seen punctuality improve to its best level in more than a decade.
Both business have lowered fares to compete more aggressively with airlines and introduced BEAM, the industry-leading on-board entertainment app that allows customers to stream hundreds of hours of leading films and TV to their devices.
In June, a total of 180,000 customers travelled on Virgin Trains services between Edinburgh and London and the east coast and Glasgow and London on the west coast, up from 152,000 a year earlier.
This represented 33% of the total air/rail market (not including Sleeper services), up from 32% in June 2014, according to figures for direct air journeys provided by the Civil Aviation Authority (CAA).
On the east coast route between Edinburgh and London, Virgin Trains' market share against airlines was 37%, up two percentage points on its previous peak in 2014. On the west coast, Virgin Trains' market share between Glasgow and London was 27%.
The increase in market share for rail journeys comes against an increase in the overall travel market, with air and rail travel between Glasgow/Edinburgh and London increasing from 6 million in 2014 to 6.7 million in 2016.
Virgin Trains aims to win 50% of the air/rail market share between Edinburgh and London by 2023 after the introduction of its Azuma fleet, which will allow regular journeys to be reduced to just four hours.
The shift has been welcomed by Scotland's Transport Minister, Humza Yousaf MSP, who said:
"The Scottish Government has set some of the toughest climate change targets for the people of Scotland. I am therefore delighted to hear of the increase in the use of our railway, as it is a fundamental part of achieving our greener transport aspirations."
Related organisations
Related people