CN releases its latest sustainability report
CN has issued its sixth sustainability report, 'Delivering Responsibly'.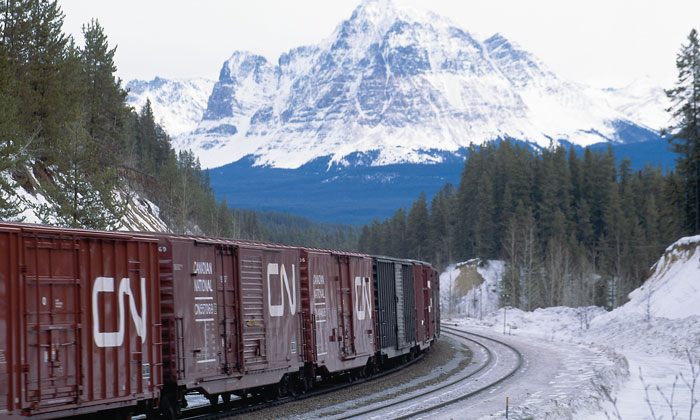 Copyright: Canadian National Railway Company
The Canadian National Railway Company's report outlines the company's programs and achievements in safety, corporate governance, community involvement, human resources and environmental sustainability.
Key accomplishments outlined in the report include:
Over the past 20 years, CN has reduced its locomotive emission intensity by 39 per cent while achieving record growth in the volume of freight it moves. 
CN continues to lead the North American rail industry in fuel efficiency, consuming 15 per cent less fuel per gross ton mile compared to the industry average.
Continuing to reinforce safety as a core value, in 2016 CN continued its roll out of Looking Out for Each Other, a peer-to-peer program promoting a safety mindset that focuses on reinforcing safe behaviours and strengthening safety culture. 
In 2016, CN continued to work closely with emergency responders and participated in more than 400 TRANSCAER®events, bringing critical training to over 8,400 participants.
Since 2012, through the company's EcoConnexions programs, more than 1.6 million trees have been planted, making CN the leading private non-forestry company tree planter in Canada. 
In 2017, CN became a member of the Canadian Chapter of the 30% Club reflecting the Board of Directors commitment to diversity.
Over the past year, CN implemented innovative diversity initiatives, including partnering with Unifor and the Government of Canadato establish a bursary program for Indigenous post-secondary students across Canada.
CN follows global best practices in disclosure and the new report was prepared in accordance with the Global Reporting Initiative (GRI) standards. Environmental data related to 2015-2016 greenhouse gas emissions were independently verified. CN has also aligned its five sustainability pillars with the United Nations' Sustainability Development Goals (SDGs).
CN's sustainability report can be accessed at www.cn.ca/delivering-responsibly.
CN's team of approximately 23,000 railroaders transports more than C$250 billion worth of goods annually for a wide range of business sectors, ranging from resource products to manufactured products to consumer goods, across a rail network of approximately 20,000 route-miles spanning Canada and mid-America.
Related topics
Related regions