First electric train runs full Edinburgh-Glasgow line
The Edinburgh Glasgow Improvement Programme (EGIP) has reached a major milestone with the first electric train running end-to-end on the main Edinburgh-Glasgow line.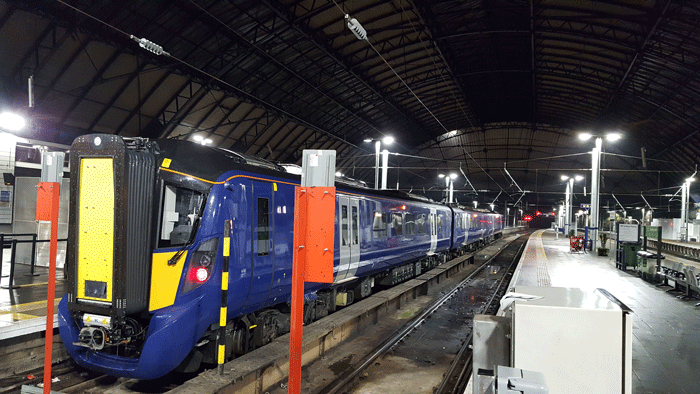 Successfully running the first electric train on the line is the culmination of a project which has been a decade in the planning and four years in delivery to upgrade Scotland's busiest inter-city rail route.
One of the new Hitachi Class 385 electric trains travelled between Edinburgh Waverley and Glasgow Queen Street overnight on Tuesday 31 October, into Wednesday 1 November.
Representing the biggest transformation of the route in its 140-year history, the electrification of 46 miles of railway between Edinburgh and Glasgow, via Falkirk High, marks an important milestone in the delivery of the overall EGIP.
A central part of the Scottish Government's rail strategy, EGIP delivers a 20 per cent reduction in journey times and adds 30 per cent more capacity, on comfortable, efficient and more reliable electric trains.
Kevin McClelland, Route Delivery Director for Infrastructure Projects, said: "I'm delighted that the first Class 385 electric test trains ran between Newbridge and Queen Street on the newly electrified route from Edinburgh to Glasgow. The achievement of running the route end-to-end is a momentous day for everyone connected with EGIP over the past few years. It is the culmination of years of hard work, dedication and commitment from across the team which has been invested in the project to make this happen."
Kevin continued: "While we acknowledge that delivering a project of this scale to electrify a live railway has not been without its challenges, the experience and learning we have taken from this stands us in good stead to deliver more of the rolling programme of electrification that continues across central Scotland."
During the delivery of EGIP, engineers have demolished and rebuilt 60 structures across central Scotland over a four year period to create the extra height needed to safely run the overhead electric cables. In addition, 100 bridges also had their parapet (side wall) heights raised to comply with new safety standards and help keep the public at a safe distance from the overhead equipment.
Platforms were also extended at a number of stations including Croy, Falkirk High, Polmont and Linlithgow and extensive work was required in Winchburgh and Queen Street tunnels to create the correct clearances for electrification.
Across the project 30,000m3 of concrete was poured and nearly 3,000 piled foundations were sunk to provide the bases for the 4,600 tonnes of steel masts that have been erected to carry the 616 kilometres of wires that have been installed on the route.
Almost 4,000 people have contributed to the delivery of the project working a total of almost six million staff hours.