UK Rail regulator calls for more consistent and reliable travel assistance
The Office of Rail and Road (ORR) has today published research showing that many passengers using travel assistance are satisfied or very satisfied with the help they receive, but more must be done to improve the reliability, consistency and awareness of assistance available.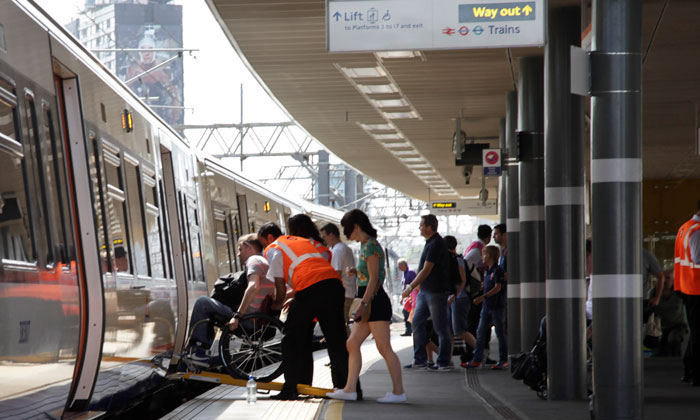 Credit: TfL / Rob Cadman
ORR's large-scale research shows that satisfaction among passengers using Assisted Travel services is relatively high. Eighty-five per cent of passengers that pre-booked assistance were satisfied or very satisfied and 71 per cent of passengers that received assistance but didn't book said they would recommend the service.
However, 12 per cent of passengers did not receive any of the assistance they booked, for example staff not turning up and some also report instances where staff are unable to relate to their needs or concerns.
ORR is calling for rail companies to do more to increase awareness of the help available, strengthen the reliability of their assistance and ensure that all staff receive better training. In particular:
Improve reliability through better communication between and within rail companies to make sure passengers receive the assistance they have asked for at all points of their journey
Increase awareness of the travel assistance available through improving written and online material and closer working with disability agencies (over 50 per cent of those asked were not aware of the assistance available)
Strengthen staff training to make journeys easier for people with disabilities, particularly those with hidden ones
Enhancing ORR's existing monitoring to see how well rail companies are meeting their obligations and to hold them to account for any poor performance.
Stephanie Tobyn, Deputy Director of Consumers at the ORR, said: "When travel assistance works as intended, passengers find it a good service, but clearly more needs to be done to make it more reliable and consistent. A growing number of people with disabilities are travelling by train, and we want to make rail travel easier and more straightforward for them. That's why we've carried out this research and identified where the service can be strengthened. We're looking forward to working with industry and passenger groups to make improvements to this important service."
In response to the release of the report, David Sidebottom, Director at the independent watchdog Transport Focus, said: "We know that passengers with disabilities experience a mixed response to their requests for help. While many of them report getting a good service, more needs to be done to ensure that all booked help arrives, and that the right help is provided. This report develops the work we have done with passengers and we are pleased to see the regulator building on our recommendation to audit the industry. It is important that passengers with disabilities can travel freely on the rail network."
Jacqueline Starr, Managing Director of Customer Experience at the Rail Delivery Group, commented: "Already four out of five disabled passengers say they are satisfied with the assistance they receive but there is much more to do which is why, as part of their long-term plan, rail companies are boosting local communities by enabling more people to travel by train."
To understand more about this issue and to discuss how to further improve travel assistance, the ORR is organising a series of events, including a meeting in December 2017 with disability representative groups.
Related organisations
Related regions