The derailed Amtrak train known to have been speeding
According to the National Transportation Safety Board (NTSB), the Amtrak train which overturned was travelling at 80mph in a zone limited at 30mph…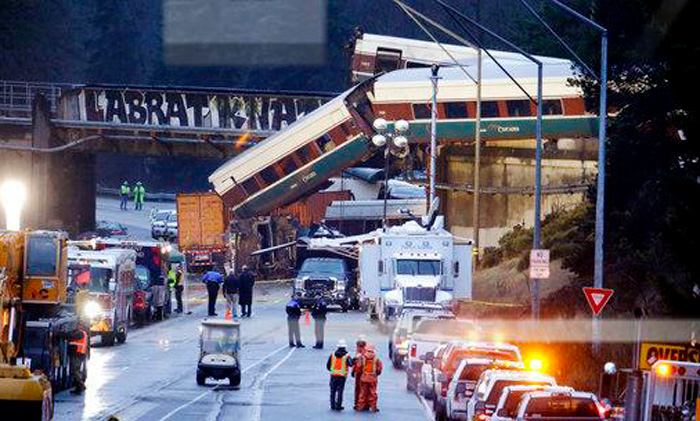 Credit: AP
Three people have been reported dead from the Amtrak Cascades Train 501 which was carrying 80 passengers alongside five crew members and one technician. After travelling 50mph over the limit, it has been said the technology that implements the speed limit onto the train, by slowing or stopping vehicles that are travelling too fast, was in the process of being installed, but not yet operational, Bella Dinh-Zarr, of NTSB, told reporters.
"The locomotive was in the process of getting a system of positive train control (PTC) but it was not yet functional," she said. Congress had extended the deadline for implementation of the legislation until end of 2018, a delay she described as 'unfortunate'. Sound Transit, Amtrak and other agencies have stated they aim to instrument PTC in the Puget Sound region before the deadline.
The derailment occurred during the locomotive's opening run of a new Cascades passenger-rail service after leaving one of the new stations between Seattle and Portland, Orgeon. Passengers have reported the train rocked and creaked as it took the bend fast, just before plunging down onto a busy motorway.
There will be an investigation into whether the driver was distracted in the cab.
LATEST NEWS:
Richard Anderson, Amtrak President has stated: "We are profoundly sorry for those who have lost a loved one, were injured, or are otherwise impacted by this horrible event."
On 21 December the three victims had been identified however at least 24 people injured in the crash still remained hospitalised.
It has been reported that there were two people in the cab in the front locomotive during the crash as the engineer was joined by a conductor learning the new route. Richard said an arrangement like that was not unusual.
The Washington state governor, Jay Inslee, has tweeted that Richard Anderson has committed to paying for the impact of the tragedy: "Those costs include all the medical and incidental expenses incurred by those injured and their families, the clean-up and repair of the roadway and the restoration of passenger rail service.
The train's cameras have been sent to Washington DC to attempt to retrieve any video. Investigators will be focusing on the track, human performance, operations and mechanics of the train.
Related topics
Related organisations
Related people