Caltrain receives necessary funding for service improvements
Senate Bill 1, the state-wide transportation funding legislation, has provided significant funding to Caltrain, enabling their fleet to consist of new high-performance electric trains…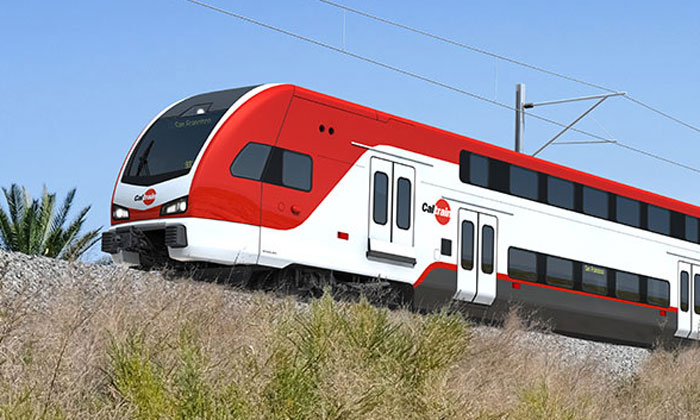 Credit: Caltrain
Senate Bill 1 (SB 1) has provided Caltrain with funding necessary for the planned improvements to the regional rail service. The California Department of Transportation announced that it will award $2.5 million to Caltrain from the new State Rail Assistance Grant programme created by SB 1.
Alongside this funding, Caltrain expects to receive approximately $4 million from this programme next year and has also applied for $630 million from the Transit and Intercity Rail Capital Program (TIRCP) with the intention to maximise the potential of the Caltrain Electrification project; expanding capacity on the system's overcrowded trains. SB 1 also increases the funding received through the State Transit Assistance programme to support the system's operating and capital needs. For 2018, Caltrain is expected to receive an additional $5 million in State Transit Assistance. 
Of the $2.5 million awarded, $1 million is allocated for the maintenance and rehabilitation of the system's rail cars, $1 million will add new crossover tracks near the middle of the corridor to enhance operational flexibility, and the leftover $500,000 will fund the Caltrain's Bike Parking Management Plan.
If the TIRCP grant is successful, the investment will maximise the benefits of the Caltrain Electrification project by advancing the full conversion of the fleet to eight-car electric trains, an improvement that would increase Caltrain's seated capacity by at least 21 per cent. It would also bring Wi-Fi to riders: A long-requested customer amenity that will also facilitate more efficient train operations and communications.
The funding currently available ensures that 75 per cent of Caltrain's fleet will consist of new high-performance electric trains when the service launches in 2022.
The Electrification Project will improve the Caltrain system's performance, enable a more frequent train service and reduce long-term environmental impacts by reducing noise pollution, improving regional air quality and reducing greenhouse gas emissions.
Related topics
Related organisations
Related regions