€500 million rail plan to transform Portugal's maritime trade and export
A new €500 million rail project stretching across Iberia is set to transform Portuguese maritime trade and export, according to Blue Atlantic Industrial and Logistics Park.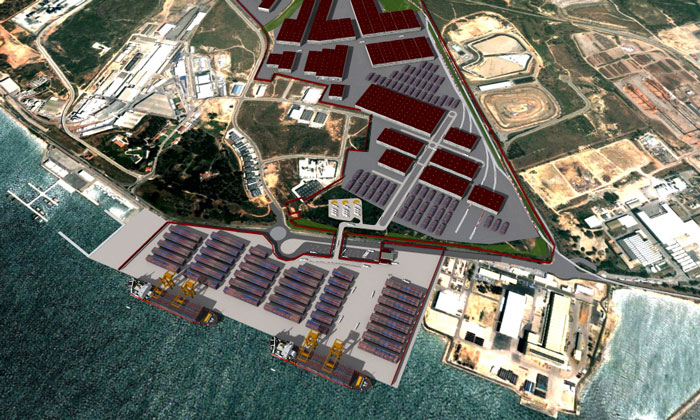 The 94km Évora-Elvas-Caia rail line will complete a 'missing link' between the Portuguese interior and Spain, creating a high-speed freight train connection to ports including Setubal and Sines.
A public tender for track construction was launched at an event in Elvas – attended by Portugal's Prime Minister and his Spanish counterpart Mariano Rajoy, along with the European Commission's head of transport Violeta Bulc. Work is expected to begin in March 2019 and completed by early 2022.
"This news comes as a major boost to Portugal's port and maritime sector," said Blue Atlantic project leader Fernando Fernandes. "It will provide faster, easier and better access from key ports such as Setubal and Sines to distribution centres in the heart of Europe. It also greatly improves conditions for private investment, internationalisation and the export of products and services.
"Investment in the Évora-Elvas-Caia rail line will revolutionise on-land freight transportation from Portugal to Spain, which is a major advantage to Setubal – being the second closest port to Madrid. Furthermore, it will create a new southern corridor to wider Europe, making Portugal even more attractive from an exports perspective."
The news comes weeks after Blue Atlantic released plans for an 800m quay showcasing its maritime trade potential. The 96-hectare site based in the Mitrena Industrial Zone is being offered for sale by Portuguese holding services company Sapec.
Mr Fernandes said the Évora-Elvas-Caia rail plan is symbolic of the fortunes for the Portuguese economy. In 2017, public investment in Portugal increased by 20 per cent, and is set to rise to 40 per cent in 2018.
"This latest investment to our rail network is a major boost to Blue Atlantic Industrial and Logistics Park. We have a firm vision for the site which is currently a very large, empty plot of land with huge potential. It has all the ingredients for developer to create a world class multi-modal export hub. It has capacity to build a private railway on site which could operate trains up to 750m in length linking to the international rail network.
"We recently demonstrated the site's maritime potential with plans for an 800m quay which could accommodate multi-purpose vessels including containers, bulk and cargo carriers. Now there is firm EU-level backing to boost on-land transport links making pan-European trade even easier."