Virgin's new Azuma trains have arrived in the UK
Once the Azuma fleet is complete, the Virgin rail network will have a higher capacity, offering faster journeys and providing an improved passenger experience…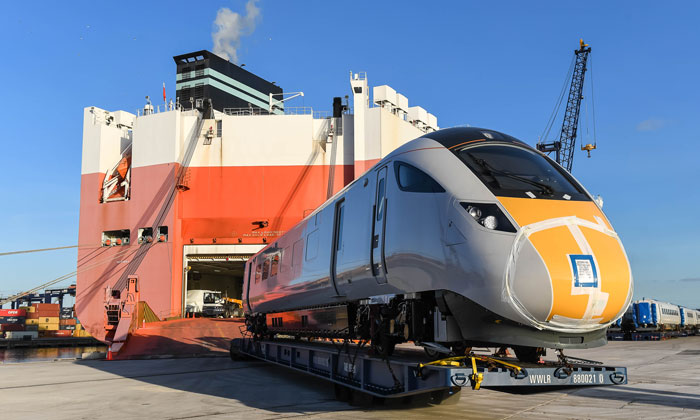 After completing a two-month journey from Japan, two new Hitachi test trains have arrived in Teesport, Middlesbrough.
The new trains will be included in Virgin Trains' new Azuma fleet which will transform travel and customer experiences when they arrive on the East Coast Main line from December 2018. The 65-train fleet will provide an extra 12,200 seats, offer the potential to enable faster journeys and support a big increase in through services from London to places such as Bradford, Harrogate and Lincoln.
Andy Rogers, Programme Director at Hitachi Rail, said: "We are proud to be building a fleet inspired by Japanese bullet-train technology here in the UK. Our comprehensive test programme is making great progress with the new trains performing very well on the East Coast main line."
Customers can expect increased legroom, additional luggage space and faster Wi-Fi.
The two five-car vehicles will be the first used for Virgin Trains on-board crew and drivers to get hands-on experience of using the new Azuma trains before passenger services start. Driver training has already begun using Azuma simulators at King's Cross, Leeds, Newcastle and Edinburgh stations.
Hitachi currently have five Azuma trains for testing and the UK factory in County Durham will begin building Azuma trains during summer 2018. The factory at Newton Aycliffe, situated a short distance from the East Coast Main Line, is home to 1,000 employees, including 50 apprentices.
Hitachi has also built a new £80 million train depot in Doncaster to maintain the new fleet.
Aileen Jordan, Azuma Director at Virgin Trains on the east coast, said: "We're excited to have reached yet another milestone with the arrival of these two trains and with them, the opportunity for our drivers and on-board crews to use these for training ahead of Azuma coming into service."