West of England rail companies join to secure £9.45 billion economic plan
A long-term plan has been created to demonstrate how an improved 'partnership railway' of the public and private sectors will secure prosperity for the region, strengthen the economy, improve journeys and provide rewarding careers…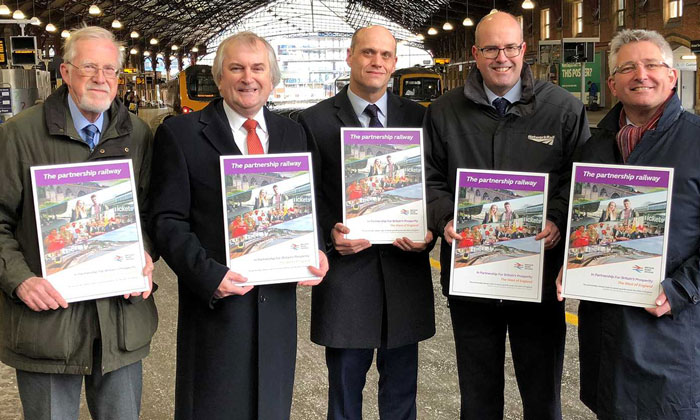 Image left to right: Keith Walton, Severnside Community Rail Partnership, Andy Cooper Managing Director CrossCountry; Joe Graham, GWR Business Assurance Director; Mike Gallop, NR Director of Route Safety and Asset Management and James Durie Chief Executive, Chambers of Commerce & Initiative at Business West.
The companies that run the railway in the West of England have gathered and set out a long-term plan for the region's railway, consequently securing nearly £10 billion of additional economic benefits for communities along the Great Western main line.
In the plan, the partnership railway of public and private sector companies has outlined commitments to improve services for customers, better connect communities and provide employees with rewarding careers, as well as boosting the region's economy.
Mark Hopwood, Managing Director of Great Western Railway, said: "The West's railway, a partnership of the public and private sectors, is fundamental to the region's prosperity, connecting workers to jobs, businesses to markets and people to their families and friends. Working in partnership, the railway's plan will spread growth to communities across the region and drive unprecedented improvements for our customers. All this adds up to a more secure and brighter future for people who work in rail."
The plan, called 'In Partnership for Britain's Prosperity – The West of England' illustrates how £2.4 billion invested in operating, maintaining and renewing the railway is enabling new and improved services. These will better connect people and businesses to key economic hubs in the region and beyond to London, Wales, the Midlands and the North.
This is in addition to existing upgrades: The electrification of the Great Western main line and the private investment of approximately £500 million into a brand-new fleet of Intercity trains, which will increase the frequency, quality and speed of journeys.
"TransWilts partnership, with GWR, has enabled a 600 per cent growth in passenger numbers on our service. We welcome the further strengthening of that partnership and local decision making and investment so that together we can sustain that growth, continuing the success from Swindon to Westbury and expanding it to build traffic onward to Salisbury and Southampton," said Graham Ellis, TransWilts Community Rail Partnership.
To deliver on the commitments and to boost communities through localised decision making and investment, the partnership railway will invest £50 million into station and car park improvements, enhancing the gateways to the villages, towns and cities that the railway serves.
Customer and Communities Funds from Great Western Railway and CrossCountry will see £4.5 million spent on projects that meet social needs, educate or engage local people, for example, bringing disused buildings back to life, developing history or heritage activities or encouraging bicycle use.
Andy Cooper, Managing Director of CrossCountry, said: "The commitments in our plan – to the region's economy, rail customers, communities and our people – set us on course to build on previous improvements and move forward together. Customers will benefit from simpler ticketing, more services and better value for money. We will transform our communities' social and economic futures by enabling more people to benefit from the opportunities provided by rail."
The Western route is already the second busiest freight route into the capital and by continuing work to support 'jumbo' aggregate trains, that increase the amount of freight that can be moved in one go, the partnership railway's plan will also free up additional capacity for more trains to run.
Thelma Sorensen OBE, Chairman, Cornwall Business Council, said: "The four commitments in this single plan recognise the vital importance of the railway to our local economy in the far South West in terms of reducing journey times, which are essential to the business community, driving growth and improving connectivity to key economic hubs. It builds on the investments that have already been made and the fact that it has been signed by all parts of the railway is very much welcomed."
Mark Langman, Route Managing Director for Network Rail's Western Route, said: "The railway plays a key part in moving the people and goods that power our economy faster and more efficiently, connecting businesses in the West of England to markets all over the world. By supporting our existing talent, moving forward as one team and encouraging new recruits with workforce training, we are securing a bright future for our employees and the communities in which they live and work."