VIA Rail celebrates achievements and resolves contribution to a sustainable future
Last year marked an important landmark in the history of VIA Rail Canada (VIA Rail) as the company celebrated its 40th anniversary. In the 2017 Sustainable Mobility Report, Canada's national passenger rail carrier highlighted their plans to transform mobility and contribute to Canada's growth.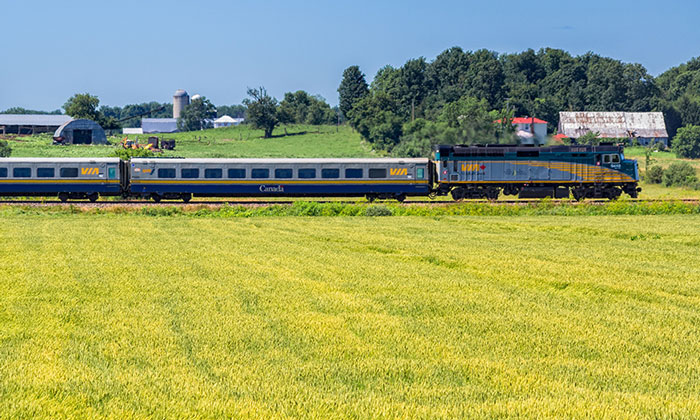 Credit: Claude Robidoux
Having laid the groundwork for a strategy to enhance the lives of the nation via several major projects, VIA Rail boasted several major achievements last year.
Accomplishments include an increase in trips and inter-modal ridership, along with a 34 per cent drop in greenhouse gas emissions since 2015. The company has also invested over $88 million in safety and efficiency. Train incidents (calculated per million train-miles) have dropped by 77 per cent through proactive risk assessment and by instilling a strong incident prevention culture throughout the corporation. Finally, employees have averaged almost 50 per cent more hours of training since 2014, in a bid to help VIA Rail achieve its ambition to become a personalised, connected, collaborative and responsible company.
Commenting on the company's sustainable mobility plans, Yves Desjardins-Siciliano, President and Chief Executive Officer of VIA Rail, said: "Today, more than ever, sustainable mobility lies at the very core of VIA Rail's existence and largely determines the long-term success of our company. While 2017 was a strong year for us in terms of revenues and ridership, we also examined ways to maximise our contribution to sustainable mobility across the country."
"We asked ourselves how we could make our stations more sustainable, so they could be greener and less energy consuming, more accessible, better integrated into the community and equipped with leading-edge technologies. We also reviewed operations in our maintenance centres to make them safer for our employees and more sustainable, by selecting better products and disposing of them more safely," added Yves.
"The challenge we have set for ourselves for the upcoming years is to enhance the human experience. Compared to any other mode of transport, trains offer the most inclusive environment. They present a unique opportunity for people of different backgrounds to come together in a way that facilitates social cohesion. Buying a new 21st-century fleet for the Québec City-Windsor corridor, to replace our current rolling stock, will provide our passengers with a better travel experience and our employees with a safer and more efficient workplace," concluded Yves.
The report can be downloaded at viarail.ca/en/about-via-rail/governance-and-reports/sustainable-mobility-report.