Hyperloop technology will be applied to on-demand cargo transportation
For the first time, high-priority cargo could be transported on-demand following the collaboration of Virgin Hyperloop One and DP World…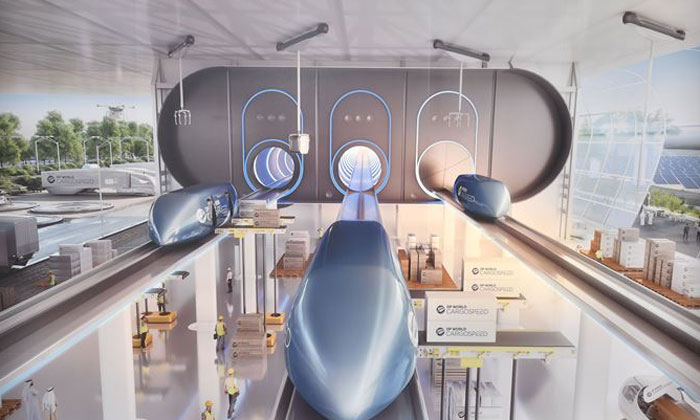 A new company, DP World Cargospeed, has been created to provide hyperloop-enabled cargo systems, through a partnership between DP World and Virgin Hyperloop One.
The world-first organisation will support the fast, sustainable and efficient delivery of high-priority, on-demand palletised cargo, closer to the cost of using truck transportation.
Vice President and Prime Minister of the UAE and Ruler of Dubai His Highness Sheikh Mohammed bin Rashid Al Maktoum, attended the launch of DP World Cargospeed and said: "The UAE is keen to be a leading player in shaping the future of the world. Being a pioneer means taking bold decisions that open the way for adopting innovative solutions. We have big aspirations because we have the confidence that we can achieve whatever we set our minds to."
His Highness said that advanced technologies are at the centre of the UAE's vision for development, which is driven by a deep understanding of the needs of the future.
Sultan Ahmed Bin Sulayem, DP World Group Chairman and CEO, said: "Throughout history, cargo has always been the catalyst for transport revolutions. We have made a significant investment in Virgin Hyperloop One because we see the need for a hyperloop-enabled cargo network to support rapid, on-demand deliveries globally. We believe in Virgin Hyperloop One's long-term vision."
Enabled by Virgin Hyperloop One technology, DP World Cargospeed systems will transport time-sensitive goods including fresh food, medical supplies, electronics and more; expanding freight transportation capacity by connecting with existing modes of road, rail and air transport.
Sir Richard Branson, Virgin Group Founder and Virgin Hyperloop One Chairman, said: "The global growth of e-commerce is driving a dramatic shift in both consumer and business behaviour. On-demand deliveries are a novelty today. Tomorrow it will be the expectation. DP World Cargospeed systems powered by Virgin Hyperloop One will enable ultra-fast, on-demand deliveries of high-priority goods and can revolutionise logistics, support economic zones and create thriving economic megaregions."
The Virgin Hyperloop One system is unique in that it isn't specific to passenger-only or cargo-only. It is a 100 per cent electric mixed-use system that utilises system capacity and maximises economic and social benefits.
Rob Lloyd, CEO of Virgin Hyperloop One, said: "Based on McKinsey's assessment of our technology, Virgin Hyperloop One-enabled supply chains can dramatically impact business bottom lines by reducing both finished goods inventory and required warehouse space by 25 per cent. DP World Cargospeed will offer unprecedented customer experience, reliability and the freedom from having to plan too far ahead."