First electric train travels between Birmingham and Bromsgrove
Ahead of full electric services being introduced later this summer, a West Midlands Railway train has made a historic journey in the UK to test newly installed overhead power lines…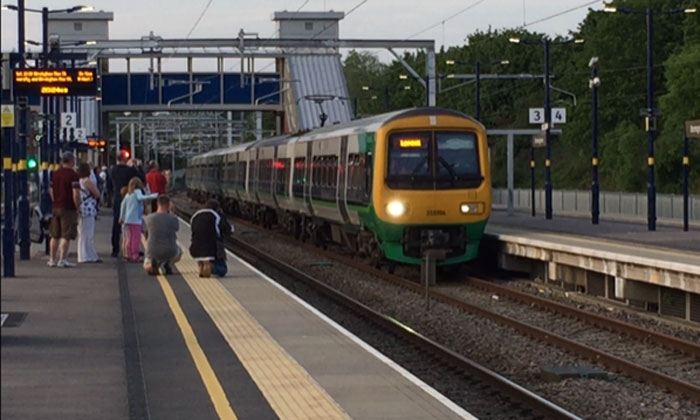 Test electric train at Bromsgrove station
The upgrade and electrification of the railway to Bromsgrove by Network Rail is part of the Railway Upgrade Plan. When completed, West Midlands Railway is to operate an extra three trains every hour. Currently the town has two trains per hour in the peak and just one train per hour off-peak. 
The testing also marks the permanent switch on of the overhead power lines, which carry 25,000v of electricity, 24 hours a day.
Richard Dugdale, Senior Sponsor for Network Rail, said: "Passengers will soon be travelling on electric trains between Birmingham and Bromsgrove which will provide a better, greener, more reliable service. The Railway Upgrade Plan is delivering significant improvements across Britain. Bromsgrove with its new station and electric train service is reaping the benefits."
Richard Brooks, Customer Experience Director for West Midlands Railway, said: "There is still more work to be done but the test train is a major step towards giving Bromsgrove the extra services the town needs. These are exciting times for the region. Rail travel in the West Midlands has never been more popular. We are investing almost £1 billion to create more and better journeys, helping to shape and support the region's economy and identity."
Engineers from Network Rail and West Midlands Railway were on-board the test train as it made three return trips between Birmingham and Bromsgrove.