Joint booths will present industry expertise at InnoTrans 2018
Joint booths are a fast and direct way for trade fair visitors to obtain in-depth information about industry-related offers and capabilities in a compact and comprehensive form…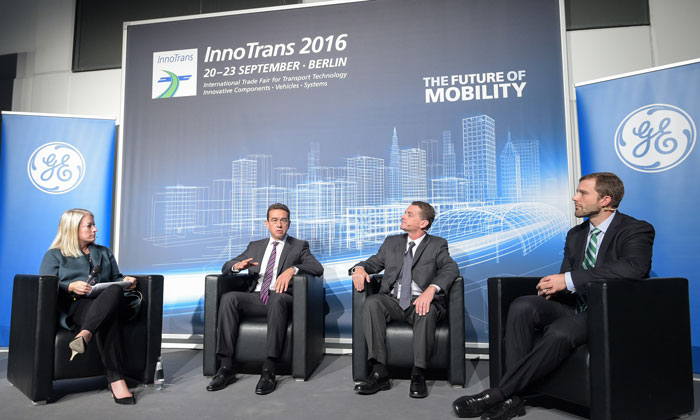 From 18-21 September 2018, various joint booths at InnoTrans will provide concentrated insights into the expertise available within the industry at a regional, national and international level.
There is also a growing interest among companies and institutions in staging combined presentations, which are also a feature of InnoTrans 2018.
"The attraction of InnoTrans is also evident in the joint presentation by the capital and surrounding region in the Berlin-Brandenburg display in hall B of the CityCube Berlin," said Jens Ullmann, Head of Department at the Potsdam Chamber of Industry and Commerce (IHK). "The display occupies over 1,000 square metres and features almost 70 exhibitors – a new record."
Seventeen companies are joining the Berlin-Brandenburg display for the first time, but it was not possible to accommodate all those wishing to take part, Ullmann explained. The slogan, 'The future of mobility', covers predictive maintenance, innovative information and communication solutions, energy efficiency, new materials and intelligent safety systems. The booth is being organised jointly with Berlin Partner für Wirtschaft und Technologie GmbH.
This year, 24 exhibitors are showcasing their innovations at the combined 'Saxony live' presentation in hall 7.2b. Among the newcomers are AIS Automation Dresden GmbH, Markenzoo eG, Norafin Industries (Germany) GmbH, Skeleton Technologies GmbH and WBN Waggonbau Niesky. Many international companies such as Bombardier, RailMaint, Goldschmidt Thermit, Hörmann and the NSH Group are active in Saxony and this makes InnoTrans: "Obligatory for companies and research facilities from this industry in Saxony", according to Markus Brömel, Project Manager Trade Fairs for Wirtschaftsförderung Sachsen GmbH (WFS).
Traditionally, the largest combined booths can be found at InnoTrans 2018, with SWISSRAIL, the Railway Industry Association from the UK and Business France all reserving display spaces in several halls. Due to the amount of interest attracted by the combined displays, Brazil, Australia and Portugal will be exhibiting in the adjoining hall. Many other international joint booths are concentrated in other halls, featuring Russia and the Czech Republic and, in particular, China, which is represented by a number of displays.
Related regions
Related people