Major environmental announcements for Network Rail's managed stations
Network Rail is attempting to tackle three significant environmental issues in the country's biggest and busiest rail stations, demonstrating their commitment to caring for the environment…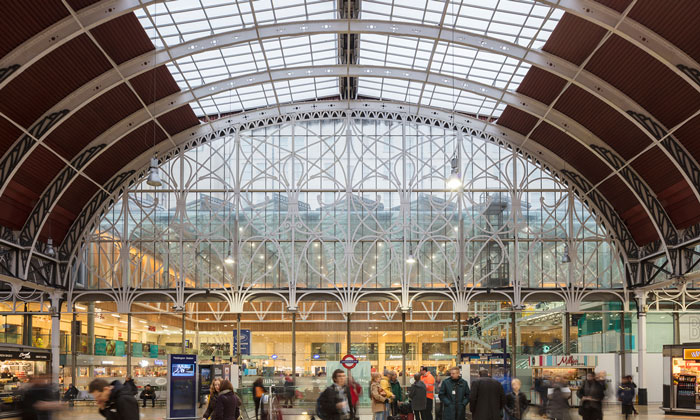 London Paddington station
Network Rail has announced the intention to ban retailers from supplying plastic cutlery and cups, implement a coffee cup recycling scheme and expand the role out of coffee ground recycling, in their managed stations by the end of 2020.
These declarations mark the UN's World Environment Day and are part of Network Rail's ongoing environmental efforts and ambitions to be a market leader in sustainability.
Mark Carne, Chief Executive of Network Rail, said: "We manage Britain's biggest and busiest stations and we have to ensure we are using that role to make sensible and ethical decisions to protect our environment."
A total of 94 per cent of Network Rail's waste is already diverted from landfill. The organisation now wants to encourage the adoption of more green initiatives within its managed stations, delivering benefits to its 900 million station users.
These goals complement the recent initiative which began installing free water fountains, launching in London Charing Cross in February 2018. This has already expanded to Liverpool Lime Street, Birmingham New Street, Manchester Piccadilly and London Euston and each location is saving up to 1,000 plastic bottles each week.
David Biggs, Managing Director, Network Rail Property, added: "We want to be a leader in sustainability and we feel that each of these three goals show a real commitment to change and recognition of our responsibility to protect the environment. We've been inspired by the many retailers that are already taking important steps to find solutions to this widespread problem and now we want to work alongside our retail partners to create an even bigger impact."
Network Rail has already written to the 150 retail brands based in its 20 managed stations, outlining plans to phase out plastic cutlery and cups. A trial of coffee cup recycling at Victoria and Paddington stations has begun, in which cups are collected from station retailers and placed into special bins in staff-only areas before being taken offsite to be reprocessed into new materials for benches, decking and even reusable cups.
More than 20 million cups of coffee are sold to the 900 million people who use Network Rail managed stations each year and the work to introduce coffee cup recycling complements Network Rail's successful coffee grounds recycling programme with bio-bean. The partnership has seen coffee grounds from more than nine million cups of coffee recycled into a clean fuel since July 2017.
Simon Twigger, MD of SSP UK & Ireland, said: "We welcome Network Rail's announcement and have already made a number of commitments in support of this agenda. Earlier in 2018, we took the decision to de-list plastic stirrers, and by the end of the year, only wooden stirrers will be offered. Additionally, in all of our units in Network Rail locations, including Ritazza, Upper Crust and Starbucks (which we run under license), plastic cutlery and straws are currently only available behind the counter, and in the majority of cases, only on request.
"In our Starbucks units, reusable coffee cups are already widely available for purchase and by the end of the year they will be on offer in all of our coffee shops. However, we recognise that in a travel setting, many customers will still require disposable cups and we very much welcome and support any initiative which makes it easier for these to be recycled."