First test train for the TransPennine Express futuristic fleet arrives in UK
In the TransPennine Express's Nova 1 fleet, 19 new five carriage trains, harnessing Japanese bullet train technology, will enter service in 2019…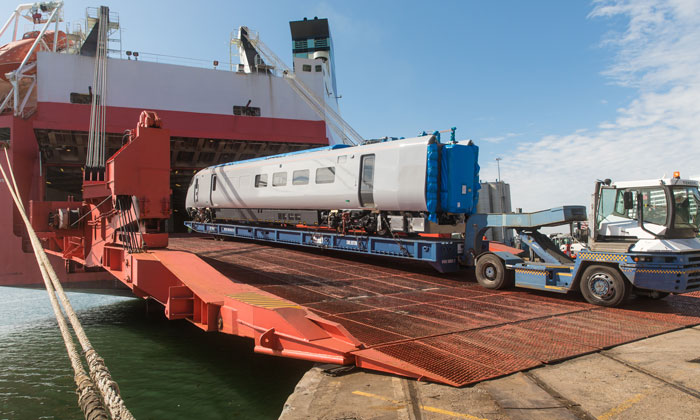 The first of TransPennine Express's new Nova 1 trains has completed its two-month journey from Japan and arrived at the Port of Southampton.
The train's journey included crossing the Atlantic and Pacific Oceans, as well as passing through the Panama Canal.
The train, built by Hitachi and financed by Angel Trains, will begin its testing in the North of England during summer 2018.
New rail connections for the north of England
From 2019, this fleet will connect major cities in the North of England and Scotland, running from Manchester and Liverpool, across the Pennines to cities such as Leeds, York, Newcastle and Edinburgh.
Berry Sas, Projects Director for Hitachi Rail Europe, said: "Today is another important milestone as we deliver pioneering new trains for millions of passengers in the North and Scotland. We will begin our rigorous test programme in the coming weeks, which I'm sure will excite passengers and enthusiasts along the route."
Added comfort on the TransPennine Express
The trains will provide 161 additional seats in comparison to the existing availability on the intercity route. Customers will benefit from spacious carriages, providing extra legroom, additional luggage space and a transformed on-board experience.
Each new train will offer fast, free Wi-Fi in both standard and first class as well as the complimentary on-board entertainment system, Exstream, allowing customers to stream the latest movies and TV shows during their journey.
Built with Japanese bullet train technology
Hitachi is using its Japanese bullet train technology to make the new Nova 1 fleet light and aerodynamic. The 19 trains will all be hybrid and able to run in either a five or 10 carriage formation, capable of speeds of up to 140mph in electric mode and 125mph when using the diesel engines.
By using modern MTU engines from Rolls-Royce, the trains will cut harmful emissions under diesel power by up to 90 per cent.
Director at Port of Southampton, Alastair Welch, said: "We are delighted to welcome these five carriages into the Port of Southampton. While more familiar with the imports and exports of automotive and bulk we were pleased to assist these high-speed locomotives with the next stage in their journey."