A new assembly hall improves Bombardier's capacity and efficiency
Bombardier's new hall and modern Industry 4.0 production mark the start of a new era at the traditional 170-year-old Bautzen site…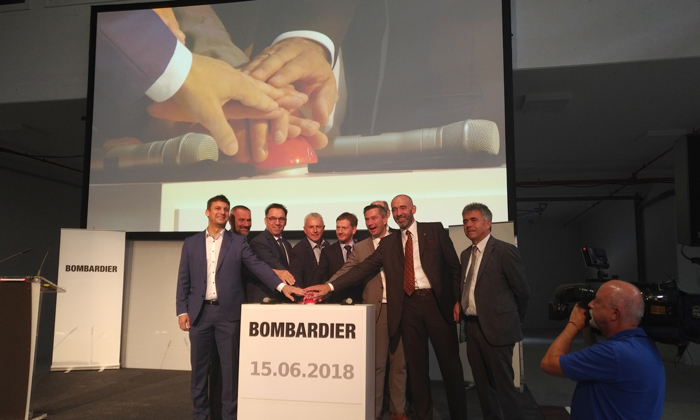 Management members of Bombardier Transportation and various guests of honour celebrate the symbolic start of production in the new assembly hall in Bautzen
Bombardier Transportation has inaugurated a new final assembly hall in Bautzen, Germany, which has the capacity to produce 600 cars per year.
Bombardier has invested approximately €8 million into the final assembly hall and commissioned a large number of companies from Saxony.
The new hall's production spectrum covers regional and intercity trains, suburban and underground trains and trams. Three different vehicle types can be produced at the same time and, in comparison to its predecessor, the new hall can save around €1 million per year in terms of logistics, energy and maintenance costs.
Around 500 employees have a workplace in the hall, which boasts a total 8,100 square metres of factory floorspace. Around 5,000 cubic meters of concrete, 1,300 tonnes of steel, 24km of electrical cables and 568 lighting fixtures were used in the construction of the new building. When including the costs, Bombardier has invested around €30 million into the Bautzen site.
Prime Minister Michael Kretschmer said: "The investment planned will secure 1,000 jobs here at Bombardier and many more for the suppliers in the region. We have been through some difficult negotiations and some very uncertain times. Now the focus is on creating favourable prospects for the Görlitz plant as well, because the potential that exists there is not yet exhausted."
"Today's hall inauguration will send a positive signal to the employees and represents an important step in repositioning and securing the two Saxony sites. The goal here is to set future standards for Industry 4.0 production in the railway industry. We want to bolster the initiative for more Industry 4.0 at Bombardier's Bautzen site and ensure efficient logistics. The Free State will support the new construction of the Spree Bridge and the expansion of the municipal access road with development funds," said Saxony's Minister of Economic Affairs, Martin Dulig.
"The new hall and modern Industry 4.0 production mark the start of a new era at the traditional 170-year-old Bautzen site," said Michael Fohrer, Head of Bombardier Transportation in Germany. "We are investing in, and establishing, a competence centre for the series production of regional and intercity trains as well as commuter and metro trains and trams. These are powerful arguments for the plant's bright and promising future."