OTIF's François Davenne appointed new UIC Director General
At the UIC's 92nd General Assembly in Madrid on 4 July 2018, François Davenne was appointed as the worldwide organisation of rail's new Director General.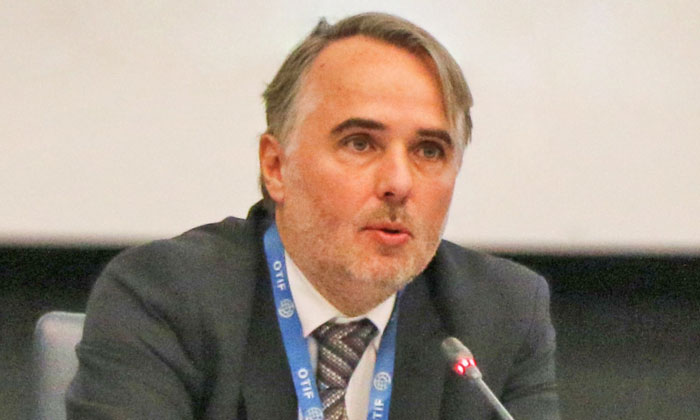 In front of UIC members at the General Assembly, François had the opportunity to underline his vision for UIC and spoke about the railway sector. "We have to shift our paradigm," he said. "I'm truly convinced that the UIC is the right place to propose a new Vision for the Railways".
François also paid tribute to the tremendous achievements gained over recent years and commented: "We definitively need standards to implement new services."
François has been Secretary General of OTIF (the Intergovernmental Organisation for International Carriage by Rail) since 2013. He promotes interdisciplinary work and partnership building to expand uniform regulations for international carriage by rail. Before his election, he was in charge of railway safety and regulations at the French Ministry of Transport. He graduated from the Ecole Nationale Supérieure des Télécommunications d'Evry in 1988 and from the Ecole Nationale d'Administration (ENA) in 1999. After his experience in international satellite telecommunications, his first assignments were in the French housing sector, where he managed key operational programmes.
Before François takes up the mandate from mid-2019, he will be  Deputy Director General of the UIC under current Director General, Jean-Pierre Loubinoux.
Related topics
Related people