Modern interiors of the new Acela Express fleet have been revealed
Amtrak is fitting their new fleet with modern Acela equipment, offering passengers contemporary accommodations and amenities.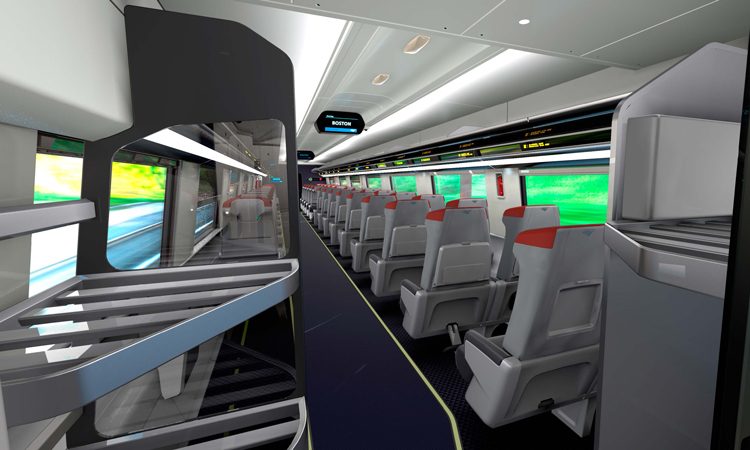 Credit: ALSTOM SA 2018. Design & Styling / AVELIA Liberty
Amtrak has revealed the interiors of its new Acela Express fleet, which is expected to redefine the customer experience on Amtrak's premium Northeast Corridor (NEC) service. 
The new trains, scheduled to enter service in the NEC in 2021, will provide world-class accommodations and amenities, along with a smoother and more comfortable ride.
The new Acela trainset interiors feature spacious leather seats, with integrated in-seat lighting and personal electrical outlets and USB ports. Each seat will have dual tray tables providing customers with a large and small table option. The seats were designed based on feedback from Amtrak customers.
To assist customers as they move throughout the train, handles have been integrated into the seatbacks. Customers will also experience a high-tech on-board information system, with six LED screens in each train car providing real-time information such as location, train speed and conductor announcements.
Other enhancements include Wi-Fi, an advanced seat reservation system, streamlined overhead luggage and spacious ADA-compliant restrooms with a 60-inch diameter turning radius.
"The next generation of Acela trains will set a new standard for rail service in the U.S., providing our customers with a superior travel experience," said Vice President of Amtrak Northeast Corridor Service Line, Caroline Decker.
The new trainsets can accommodate 386 passengers, an increase of nearly 30 per cent, while preserving the comfort of the current Acela Express service.
The prototype of the new trainsets, in production at Alstom's manufacturing plant in Hornell, New York, will be ready in 2019, with the first train entering service in 2021. All the trainsets are expected to be in service by the end of 2022.