Virgin Trains first to use RCS-based messages for customer communications
Rich Communications Services (RCS) messaging is a new mobile industry communications standard that allows Virgin Trains to send rich 'Chat', helping deliver seamless customer journeys.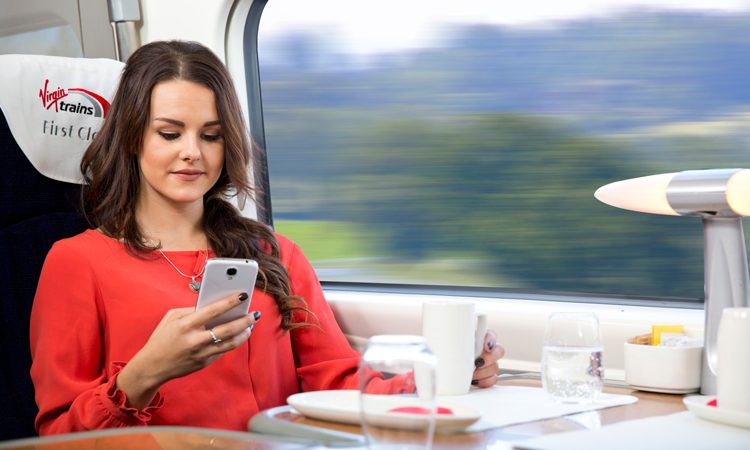 Virgin Trains has partnered with Vodafone and OpenMarket, becoming the first company in the world to deploy the latest RCS-based 'Chat' service as a customer communications channel on a commercial basis.
Hailed as 'Text Messaging 2.0', 'Chat' transforms the way in which companies communicate with customers. RCS-based Chat messages carry more information than an SMS message, enabling Virgin Trains to send photos, videos, audio and messages containing easy-to-select buttons to customers.
Initially the technology will be used to provide onward journey information to its London Euston-bound passengers. Chat messages are sent to customers' smartphones around 10 minutes before they arrive into the station and provide the latest updates for London Underground services. Customers can simply tap a button within the message to find out more detailed information from TfL – providing simple information to help with their onward journey.
John Sullivan, Chief Information Officer at Virgin Trains, said: "We always strive to lead the way and with a proud record of digital innovation, we're excited to be investing in new technology that will transform the way we communicate with our customer. It has been great working with Vodafone and OpenMarket to introduce this new type of messaging, which is incredibly user-friendly.
"Chat messaging provides lots of opportunities. This is just the start and we look forward to developing our Chat service to further enhance the overall journey experience for customers."
The introduction of Chat messages is the latest digital initiative to be rolled out by Virgin Trains, who earlier in 2018 became the first transport company in the world to sell tickets through Amazon Alexa.
Jonathan Morgan, CEO at OpenMarket, said: "Chat is text messaging for the smartphone age and it gives customers a richer, smarter, more app-like experience – all from their SMS inbox.
"There are three specific reasons why consumers will find the Chat service a significant improvement on regular text messages. Firstly, it makes completing even complex tasks such as providing feedback as easy as tapping a button. Secondly, there is no need for third party apps as Chat adds functionality in the native messaging inbox that consumers already use frequently. Thirdly, message branding and verified sender information provide consumers with increased peace of mind when they receive Chat messages."
Currently, these Chat messages can be received by any Virgin Trains customer using a device on the Vodafone network that is RCS-compatible; other customers will receive an SMS text message that contains a link to TfL's website.