New partnership aims to enhance real-time passenger information
This new agreement confirms a collaboration for industry-leading, developed and real-time passenger information systems.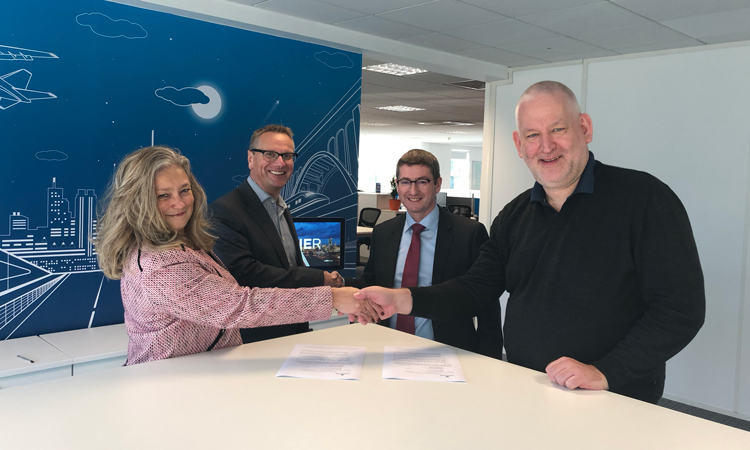 Left to right: Denise Lawrenson (KeTech MD), Mike Tebbutt (KeTech CEO), Roald Gréboval (LTG Global Rail MD), Jakob Magnussesn (LTG Senior Sales Director, Rail)
Luminator Technology Group (LTG) and KeTech Systems Limited (KeTech) have announced their new Strategic Partnership Agreement.
The agreement formalises a strong collaboration for industry-leading, enhanced, real-time passenger information systems and Connected Driver Advisory Systems (CDAS).
LTG and KeTech recognise the rapid pace of development in the expectations of the DfT, train operators and passengers regarding the on-train passenger information experience. As a result, the partnership has produced a flexible and modular solution that provides tailored, purpose-designed solutions for new train builds and upgrades to existing fleets.
This collaboration combines LTG's proven reputation for supplying and integrating state-of-the-art PIS systems with KeTech's expertise in the delivery of content-rich and enhanced real-time passenger information.
KeTech CEO, Mike Tebbutt, said: "I am delighted to have formalised our relationship with LTG. We have been working together for the last two years developing our integrated offering and we have been inspired by the opportunity to work with a partner that shares our vision of the future for this fast-developing sector. We look forward to continuing to deliver joint innovation in the months and years ahead."
One fully integrated solution has already been deployed on the TransPennine Express Class 185 Siemens Desiro fleet. Work is also underway to supply a similar system for a fleet of Class 350's. This project includes the collaboration's launch of a Connected Driver Advisory System (CDAS). Further projects across a number of train operators and fleets are scheduled throughout 2019 and beyond.
LTG MD, Roald Gréboval, commented: "I am proud of our team, having worked diligently to design a unique, reliable and long-lasting platform integrating the real-time information solution of KeTech and the passenger information system of LTG. We are one step ahead of competition and we are looking forward to further extend our collaboration."