ADB approves a $2.75 billion loan for the Malolos-Clark Railway Project
The financing is for the construction of a 53.1 kilometres passenger railway which will connect Malolos, a suburb north of Manila, to Clark economic zone and Clark International Airport in Central Luzon.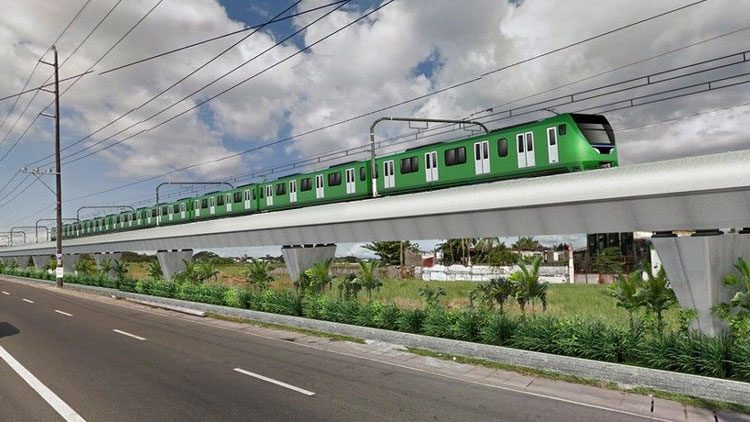 A rendering of the Malolos–Clark Railway Project. Photo courtesy of JICA.
The Malolos-Clark railway is part of the Philippine government's North–South Commuter Railway (NSCR) project, a 163-km suburban railway network stretching from New Clark City in Tarlac province in the north to Calamba in Laguna province in the south of Manila. The NSCR project is expected to be completed by 2025.
The Malolos-Clark Railway Project will provide safe, reliable, and affordable public transport for a total of about 342,000 passengers expected to travel daily along the Manila–Clark corridor and up to 696,000 passengers per day to Calamba by 2025. It is estimated to cut the travel time from Metro Manila to Clark International Airport to less than one hour by rail, compared with two to three hours by car or bus. The project is expected to be partially operational from 2022.
The Malolos-Clark Railway Project will help ease the current chronic road congestion in Metro Manila, reduce air pollution, cut the costs of transport and logistics, spur economic growth in central Luzon, and encourage a population shift from the capital to growth centres in the north, such as Clark in Pampanga.
ADB President Takehiko Nakao, said: "ADB's partnership with the Philippines has always been strong, and it has become stronger in the last three years. The government's Build, Build, Build (BBB) programme is clearly steering the much-needed acceleration in infrastructure spending, from less than two per cent of gross domestic product a decade ago to 6.3 per cent now, well on track to achieve the seven per cent target by 2022. One of the key flagship projects of the BBB programme is the Malolos-Clark railway.
"It will be ADB's single largest infrastructure project financing ever, and from a development perspective, we are pleased this investment is taking place in ADB's host country. The project, combined with other investments in light rail transit, metro rail transit, and subway systems, will bring back the culture of rail transport in Metro Manila."
ADB's 2018–2023 Country Partnership Strategy for the Philippines envisages significant and wide-ranging support for the BBB programme, among other critical investments in education, financial inclusion, and economic policy reforms.
ADB will be financing civil works of the Malolos-Clark Railway Project, including the stations, bridges, and viaducts for the elevated railway alignment, and a tunnel leading to the underground station at Clark International Airport. It will also assist the government in using global standards for procurement and environmental and resettlement safeguards.
The project is co-financed with up to $2 billion by the Japan International Cooperation Agency (JICA), which will finance the rolling stock and the railway systems.
ADB Principal Transport Specialist for Southeast Asia Markus Roesner, said: "Our cofinancing partnership with JICA allows both our institutions to combine our expertise and knowledge in building a world-class railway in the Philippines."
The project includes the construction of two rail segments – a 51.2-km section connecting Malolos City in Bulacan province to the thriving Clark regional growth centre and a 1.9-km extension connecting the NSCR to the Blumentritt Station in Manila, where an elevated interchange station for Light Rail Transit Line 1 will be built.
The rail stations will include multimodal facilities, allowing commuters to easily transfer from public buses and jeepneys to the trains. The underground station at the Clark International Airport will provide a short connection to upcoming and future airport terminals.
The project will be built on an elevated alignment, helping reduce the impact on communities, avoid disruption of activities, and mitigate flood risks along the route. It will use innovative construction methods such as pre-fabricated viaduct segments, which limits the need for land acquisition and accelerates construction. High-quality construction methods will be used to achieve the maximum rail speed of up to 160 km per hour.
ADB is committed to achieving a prosperous, inclusive, resilient, and sustainable Asia and the Pacific, while sustaining its efforts to eradicate extreme poverty. In 2018, it made commitments of new loans and grants amounting to $21.6 billion. Established in 1966, it is owned by 68 members – 49 from the region.