MP champions cross-sector collaboration in decarbonising transport sector
As the rail industry strives for carbon neutrality, MP Peter Kyle has seen how cross-industry cooperation will lead to decarbonised railways.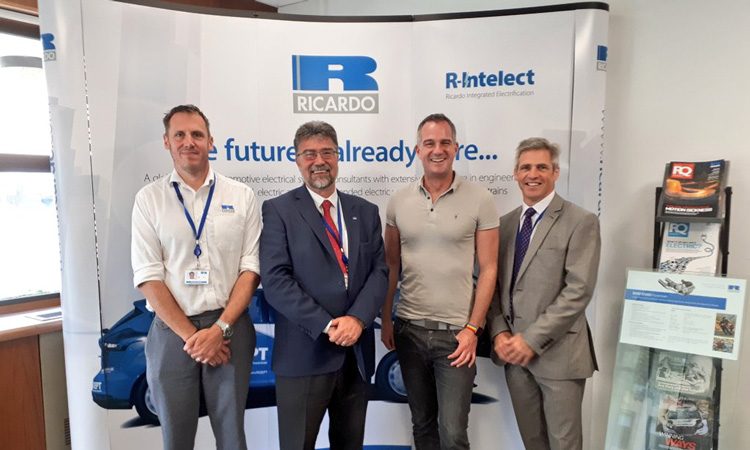 From left to right: Richard Cornwell, Engine Performance Development Specialist, Ricardo, Andy De Vries, Project Director, Ricardo, Peter Kyle, MP for Hove, BEIS Select Committee Member and Billy Joels, Programme Manager, Ricardo
Peter Kyle (MP) has visited Ricardo's Technical Centre as part of the RIA Rail Fellowship Programme 2019, which showcases the work of the UK rail supply chain by encouraging parliamentarians and influencers to gain hands-on experience in the industry. Kyle was given a preview of how the cross-pollination of transport technologies has seen integrating expertise and knowledge from the automotive and energy industries to deliver innovative solutions for rail.
Kyle said: "Witnessing first-hand the cross-industry cooperation and sharing of knowledge, and how it is benefiting the rail and energy sector, has been fantastic. I would like to thank Ricardo and RIA for organising this visit and encourage my fellow Parliamentarians to show their support for the invaluable work going on in our rail supply chain and shine the spotlight on the behind-the-scenes work rail suppliers do up and down the country to keep our railways running."
Richard Cornwell, Engine Performance Development Specialist at Ricardo, said: "At Ricardo we pride ourselves on offering world-class solutions for critical and complex rail systems, so it was great to show how the latest thinking in the automotive sector can be used to decarbonise our rail network."
David Clarke, Technical Director of the Railway Industry Association, said: "The RIA is proud to demonstrate the unique work our members are undertaking in the rail supply chain through valuable visits like Peter's. The Government has set the rail industry the challenge of decarbonising by 2040, so it is important that the rail sector is able to transfer learning from other sectors as RIA member Ricardo is doing.
"We are particularly looking forward to seeing the outcome of the research that Ricardo are currently undertaking for the rail industry exploring the options to decarbonise rail freight, where – other than electrification – there are no obviously available carbon-free technologies that can deliver the power required."