Russian Railways see passenger increase between January and July 2019
As the industry strives to transport more patrons, Russian Railways has seen an increase of nearly 13 per cent in passenger traffic since the beginning of 2019.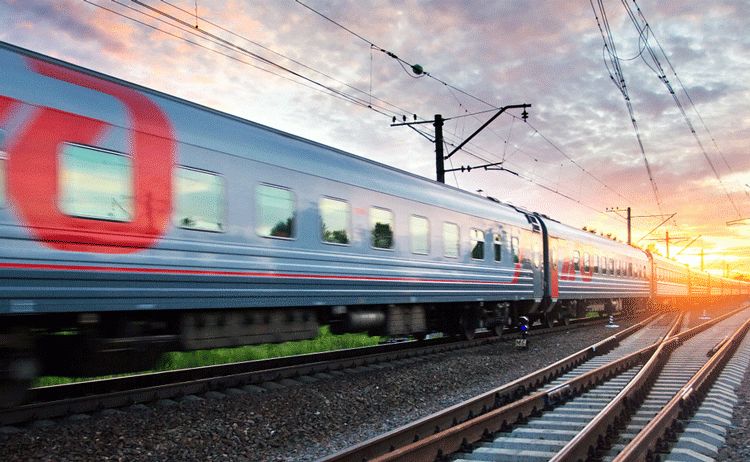 More than 450,000 passengers travelled internationally to Russia during January-July 2019, an increase of 12.7 per cent compared to the same period in 2018. The biggest increase was observed in services between Russia – Mongolia, which was up by 16.9 per cent, followed by Russia – Finland, up by 16 per cent, Russia – Italy, up by 4.4 per cent and Russia to Germany, which rose by 1.3 per cent.
The Federal Passenger Company, a subsidiary of Russian Railways, operates comfortable trains with four-seater compartment carriages with RIC dimensions on its services to and from the countries of Europe. RIC stands for Regolamento Internazionale delle Carrozze or International Coach Regulations, an agreement which now covers 27 railway companies from all the European countries apart from the United Kingdom, Ireland and Finland.
RIC carriages provide comfortable sleeping places, sockets in each compartment and a folding table in combination with a sink. All carriages are equipped with an air conditioning system with individual adjustment in the compartment. Each carriage also has 2 sanitary rooms, including one with a built-in shower.
The Moscow – Berlin Strizh train has been running between Russia and Germany since December 2016. Its carriages are equipped with a system which can automatically change the width of the bogies. This technology greatly reduces the time needed to switch from the 1520mm broad gauge railway track used across Russian to the 1435mm narrow gauge European system at Brest station in Belarus.
In the first half of 2019, the Moscow – Berlin Strizh trains transported 29,800 passengers, 69 per cent more than in the same period last year. The Moscow – Berlin Strizh trains have carried 88,100 passengers since their services began on 17 December 2016.
High-speed Allegro trains provide regular services between Russia and Finland. Comfortable Allegros with a maximum operating speed of 220k/h run between St. Petersburg and Helsinki and since the beginning of 2019 have carried 316,300 passengers, 16.6 per cent more than during the same time last year. Allegro trains have carried a total of 3.6 million passengers since entering service on 12 December 2010.
According to the results of the first half of 2019, there was an increase in passenger numbers travelling between Russia and a number of CIS and Baltic countries. In particular, the number of passengers taking the train between Russia and Tajikistan increased by 3.4 per cent, Russia and Kazakhstan by 3.2 per cent, and Russia and Azerbaijan by 1.3 per cent.
In accordance with the 2018/2019 train timetable, direct and transit international passenger services are available between Russia and 11 countries in Europe and Asia on 16 routes (to Germany, France, Finland, Italy, Poland, the Czech Republic and China etc.), as well as to 11 CIS and Baltic countries (Belarus, Ukraine, Moldova, Kazakhstan, Kyrgyzstan, Tajikistan, Uzbekistan, Azerbaijan, Latvia, Lithuania, Estonia).
Related organisations
Related regions