Russian Railways issues first international Green Bond
The first Green Bond to be issued by a Russian company has achieved the lowest interest rate ever for a Russian Euro-denominated bond of any kind.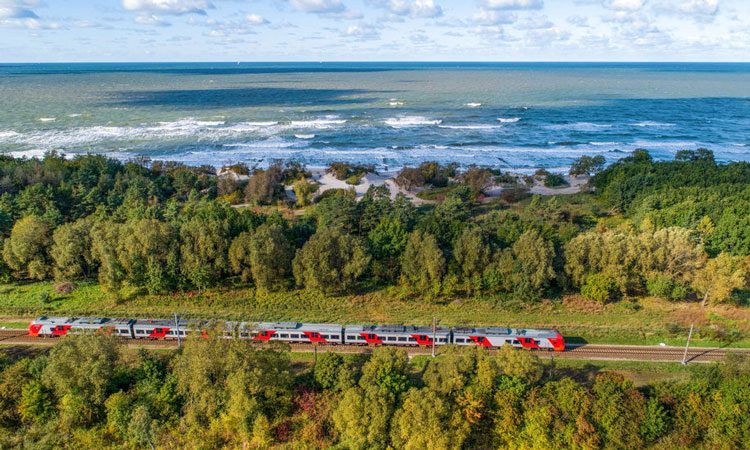 Russian Railways has issued the company's first Green Bond, and the first international Green Bond issued by a Russian company. The 8-year Green Bond raised €500 million and was finally priced at 2.2 per cent. The issuance was significantly oversubscribed with an orderbook of over €1.8 billion.
The funds of the bond will be used for financing and refinancing the purchase of electric passenger trains "Lastochka", as part of its wider programme of electrification and reduction of emissions in Russia.
The issuance was prepared in accordance with the International Capital Markets Association's Green Bond Principles, and certificated by the Climate Bonds Initiative. Verification and Second Party Opinion were provided by Sustainalytics, the leading independent ESG and corporate governance research and ratings firm.
Vadim Mikhaylov, first deputy CEO of Russian Railways, said: "We are very proud to have issued such a significant green bond internationally, continuing the company's success in the bond market, and hopefully paving the way for further green financing in Russia. To have also achieved the lowest ever borrowing rate for a Russian issuer of Euro denominated bonds is fantastic. As a transport provider we take our environmental responsibilities very seriously, and we are keen to play our part in decarbonising passenger and freight journeys across the country."
Proceeds
The capital raised will be used to purchase electric trains as Russian Railways continues to modernise its rolling stock, phasing out diesel and older electric trains. Russian Railways is set to increase its fleet of Lastochka EMUs with the current 183 trains in service increasing to 270 by 2021. The Lastochka is an electric multiple unit high-speed train adapted from the Siemens Desiro family for the 1520 gauge network and the harsh Russian environment. The trains will serve passenger transit roles on both suburban and intercity routes.
Last week the company also announced plans to acquire 1000 new electric locomotives over the next three years at a cost of around €2 billion.
Electrification
The electrification of the country's busiest lines, and decommissioning of diesel locomotives is one of Russian Railway's strategic priorities. More than half of the 85,500km Russian rail network has now been electrified, and more than 85 per cent of all rail movement in Russia takes place on the electric network.
With rising passenger journeys out of urban centres towards surrounding regions, Russian Railways has been building out its electrified network and rolling stock to offer transport at the best combination of speed and price, and with the lowest possible carbon impact. Journeys on high-traffic routes are forecast to rise, and Russian Railways actions should help to attract travellers away from cars and buses, and onto electrified trains.
Railway travel already offers significant advantages over road and air travel in terms of CO2 emissions and resource consumption. The new generation of Lastochka trains will improve this performance again, achieving CO2 emissions typically 3.5 times lower than road transport and almost 10 times lower than air transport.
Russian Railways and the environment
Whilst railways have naturally lower emissions that other forms of transport, Russian Railway's has set ambitious targets for the ongoing improvement of its environmental performance, aiming to half its total impact on the environment by 2030.
Continued investment in its asset base allows Russian Railways to achieve these reductions, and confers a secondary benefit by attracting passengers onto trains and away from more ecologically harmful modes of transport.
Beyond the electrification of its network and locomotives, Russian Railways has an increasingly well-developed environmental policy, including:
56 laboratories across the country measuring and reporting on emissions in different locations, and regularly testing trains
Annual reduction targets for emissions, plastic use, and water use
A company-wide "green day" each month, encouraging employee and passenger awareness
Ongoing tree-planting programme
Recycling of old railway sleepers to biomass and community heating systems.