TEXOL Group acquires articulated tank rolling stock for transporting LPG
The United Wagon Company (UWC) will supply 400 articulated LPG tank rolling stock to the TEXOL Group by early 2021 following the 400 already purchased at the beginning of 2019.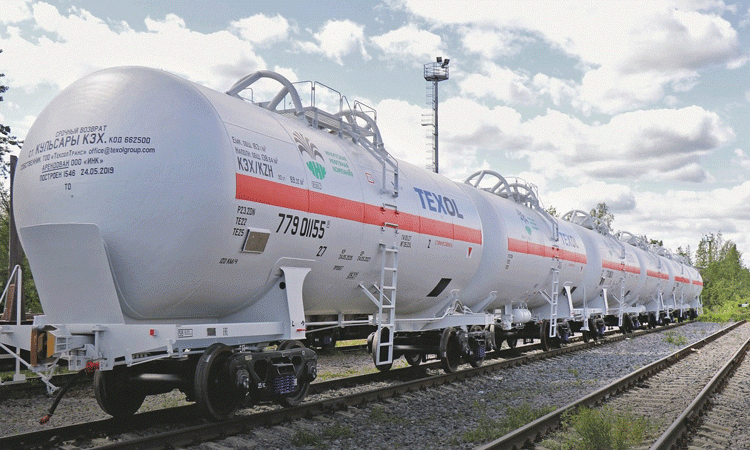 At the recent Pro//Motion.Expo trade fair in Moscow, research and production corporation United Wagon Company (UWC), Russia's largest manufacturer of freight rolling stock, and TEXOL Group, one of Kazakhstan's largest railway operators and freight rolling stock fleet owners, have signed an agreement for UWC to supply articulated LPG tank rolling stock.
The number of tank cars to be supplied stands at 400, with the supply to be completed before the end of Q1 2021. At the start of 2019, the railway operator purchased the first lot of 400 cars. With the latest acquisition, TEXOL will own a total of 800 Tikhvin-produced articulated tank rolling stock.
The 15-9541-01 tank rolling stock, for transporting LPG (propane, butane and their mixtures), is unique to the CIS market. Tank rolling stock is noted for its increased loading capacity of 90 tonnes and an impressive tank volume of 163.1m3. Furthermore, the design solutions used in the tank rolling stock enable the operator to save on the tariff component of its expenditures and thereby significantly reduce operating costs.
The tank rolling stock has two tanks connected by a clearance-free articulated joint designed to accommodate increased longitudinal and vertical loads and providing unobstructed passage for the articulated rolling stock running alone or coupled with standard rolling stock along straight and curved sections of track, including small radii (60 to 80m). The linear dimensions and design of the parts make it possible to operate the tank car on both public and private tracks, and to carry out diagnostics and repairs on the car without any need for reconditioning the track.
Sergey Gorsky, Member of the Board of Directors of TexolTrans, said: "We have a stable flow of orders for LPG transportation on both domestic and international routes spanning long distances, primarily from Irkutsk Oil Company. To handle the orders, we need modern rolling stock that would ensure high efficiency of our shipments. It is clear to us that such rolling stock is represented by Tikhvin articulated tank rolling stock mounted on 25-tf bogies. We have been replenishing our fleet with these tank cars since the start of the year and they have shown positive operating results. This motivated us to purchase another lot. We firmly believe our business relations with UWC will persist as a long-term, robust and mutually beneficial cooperation."