Alstom signs production contract with PTA of Western Australia
The PTA contract will require Alstom to manufacture and maintain the newest generation of C-series trains for the growing rail network in Perth.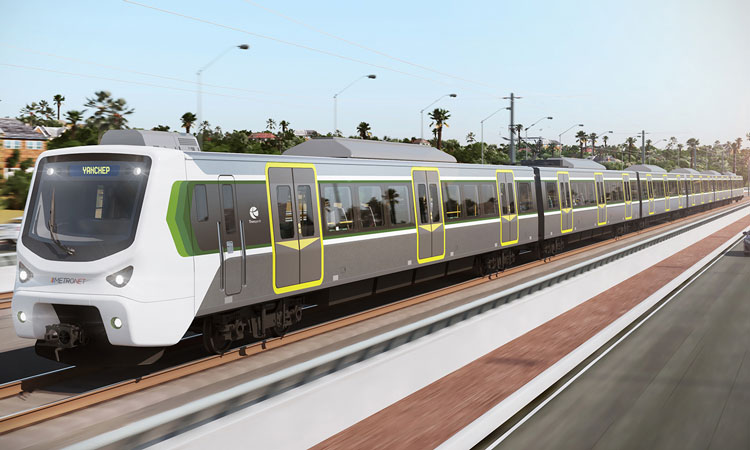 Copyright: Alstom
The Public Transport Authority of Western Australia (PTA) has agreed and signed a contract with Alstom for the manufacturing and maintenance of the newest generation of C-series trains that will be put into operation on Perth's growing rail network.
The contract is worth approximately AUD 1.3 billion (£670 million) and states that Alstom will be responsible for the design, supply, manufacturing, testing and commission of 41 six-car electric (EMU) trains and two three-car diesel (DMU) trains. The contract includes 50 per cent local content, 20 years worth of maintenance for the EMU trains and maintenance support services for the DMU trains.
Senior Vice President Asia Pacific at Alstom, Ling Fang, said: "The METRONET project provides a unique opportunity for Western Australia to manage Perth's projected future growth while re-establishing its railway manufacturing industry, creating jobs, investing in infrastructure and supporting local manufacturing and supply chains. We are delighted to have been awarded this contract and look forward to partnering with the State of Western Australia to deliver this significant project."
PTA's Bellevue assembly facility will manufacture the new trains and is expected to deliver them over a seven year period from 2022 onward. The contract also allows for future orders of an additional 30 trains and two five year further maintenance options. 
The project will transfer the latest railway technologies and manufacturing processes to Western Australia, establishing the most technologically advanced train manufacturing and maintenance sites in Australia. Over 120 Western Australian jobs are also expected to be created by the project, including 15 per cent being apprentices and aboriginal workers.