TEXRail celebrates half a million journeys during first year of operation
Since the beginning of 2019, TEXRail has served over 500,000 passengers and travelled a total distance of 528,036 miles.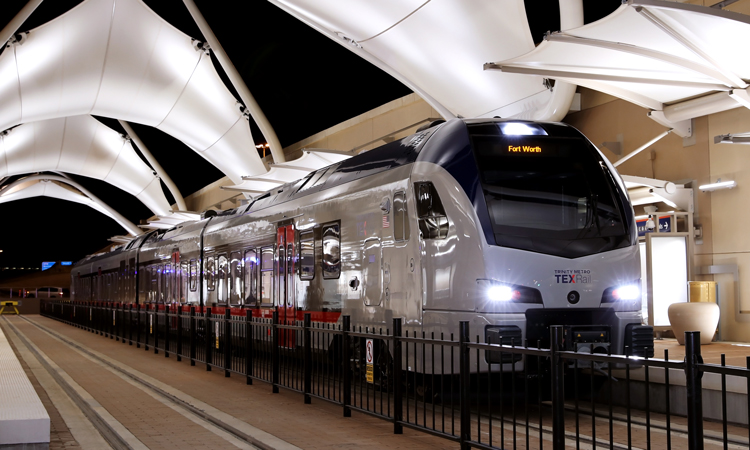 On 10 January 2020, Trinity Metro TEXRail celebrated its first year in operation, serving downtown Fort Worth and Dallas Fort Worth International Airport's (DFW) Terminal B. Figures at the end of 2019 showed that TEXRail served 545,345 passengers in total for the year and travelled a total distance of 528,036 miles. 
December saw a record set for the company, with 51,217 passengers welcomed and trains being on schedule 99.15 percent of the time – narrowly beating November, which previously set the record at 44,741 passengers, representing an increase of almost 10,000 passengers in a month.
Vice President and Chief Operation Officer for Rail, Jon-Erik 'AJ' Arjanen, said: "Riders want to know that the train is going to pick them up on time and take them safely to their destination as scheduled. If you're travelling to the airport to catch a flight, you don't want to worry about when you'll arrive."
During its first year, TEXRail found that consistent ridership patters emerged – DFW Airport Terminal B Station consistently ranked first in ridership on weekdays and Sundays, whereas on Saturdays, Grapevine/Main Street had the highest ridership.
Jon-Erik continued: "We found that more business and leisure travellers are choosing to leave their cars at home and not worry about getting stuck in traffic. In 2020, we expect our commuter base to grow as more companies take advantage of the 25 per cent discount we offer through our EasyRide programme."