ORR figures establish Waterloo as Britain's busiest railway station
Waterloo remained in the top position for the station with the most entries and exits, with only one station outside of London reaching the top 10.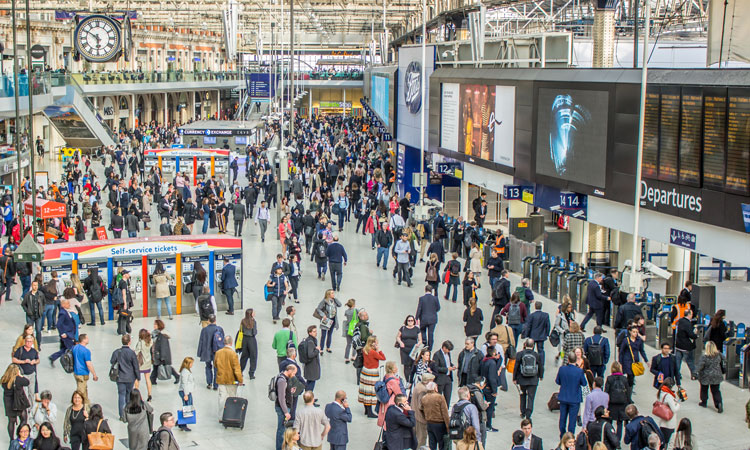 According to April 2018 to March 2019 figures published by the Office of Rail and Road (ORR), London's Waterloo Station has remained at the highest ranking for the total number of passenger entries and exits, with a significant 94.2 million passengers served in a year. Though Waterloo remains in the same position as it achieved in 2017 to 2018, the station saw a slight decrease of 162,310 passengers during 2018 to 2019.
Within ORR's top 10 busiest stations across Britain, only one station outside of London made a substantial effort – Birmingham New Street Station broke the capital's dominance, taking 5th place with 48 million passenger entries and exits during 2018 to 2019.
Forty-two stations in total benefited from over 10 million entries and exits during 2018 to 2019. Two new stations opened during ORR's published time frame, Kenilworth and Maghull North, bringing the total number of stations in Britain to 2,566. Between the two, they welcomed 170,912 and 399,066 entries and exits respectively. 
In Scotland, Glasgow Central retained its position as the busiest in the region, taking 11th place in the overall list. Edinburgh followed, welcoming 23.9 million passengers compared to Glasgow's significantly higher 32.8 million. Cardiff Central remained at the top spot in Wales, seeing over 14 million entries and exits, and took 34th place in the nationwide list. 
Redcar British Steel saw the biggest percentage increase at an 800 per cent increase, from 40 to 360 entries and exits, despite being 2017 to 2018's least used station. Scotland's Lochluichart Station suffered the biggest percentage decrease, down 71.5 per cent from 632 to 180 entries and exits.
Related topics
Related organisations
Related regions