ÖBB orders Desiro ML trains from Siemens Mobility
The order of 11 new trains from Siemens Mobility completes the initial contract for 200 Desiro ML ÖBB Cityjets for the Austrian network.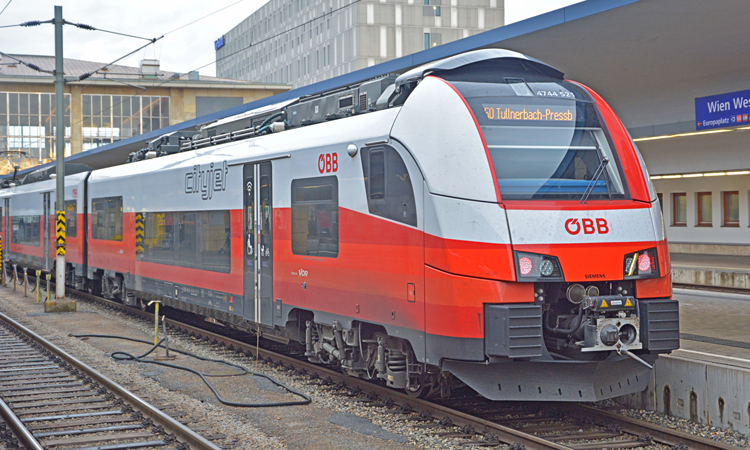 Siemens Mobility has announced that ÖBB, the Austrian Federal Railways, has ordered 11 trains from the existing framework contract for 200 Desiro ML trains, subsequently completing the contract. Upon delivery of the new trains at the end of 2021, a total of 200 Desiro ML ÖBB Cityjets will be in service on the network.
The units, designed to enhanced the quality of travel and experience for passengers, are equipped with WLAN, air conditioning, power outlets, tables for opposite seats and many other amenities. The trains offer local commuters all of the comforts and conveniences that are usually designated to passengers on long-distance trains.
CEO of Siemens Mobility, Sabrina Soussan, said: "The Siemens Mobility Desiro ML combines reliability, safety and operational efficiency with great comfort and extremely satisfied passengers. Austria's rail users now have 200 good reasons for travelling in eco-friendly trains. Moreover, some of the Desiro ML ÖBB Cityjets are equipped for battery hybrid technology and can ensure emission-free, climate friendly travel."
The 11 new trains – which will be built in cooperation by the Siemens Mobility plant in Krefeld and the ÖBB Technical Service GmbH in Wien Jedlersdorf – are to be equipped with the European Train Control System (ETCS). The other 189 trains currently in service will be equipped with ETCS by the end of 2023, enabling operators to schedule shorter headways on existing rail infrastructure.
The Cityjets are 75m long, able to reach a top speed of 160km/h and can rapidly accelerate. They have been further optimised to ease and flow of passengers at stations and ensure high punctuality in Vienna's SBahn network. The 11 newly ordered trains will be equipped for converting to battery hybrid technology and, once converted, can also be used as emission-free alternatives on non-electrified rail lines.
The 200 Desiro ML ÖBB Cityjets contract began in 2015, when the first 101 trains were put into service in eastern Austria. The second call for 64 trainsets followed in 2016, and 24 more trains were called up in 2019.