DSB's coach contract with Talgo supports Denmark's sustainability commitments
The new train sets for DSB will contribute to supporting a further reduction of carbon emissions from rail transport in Denmark.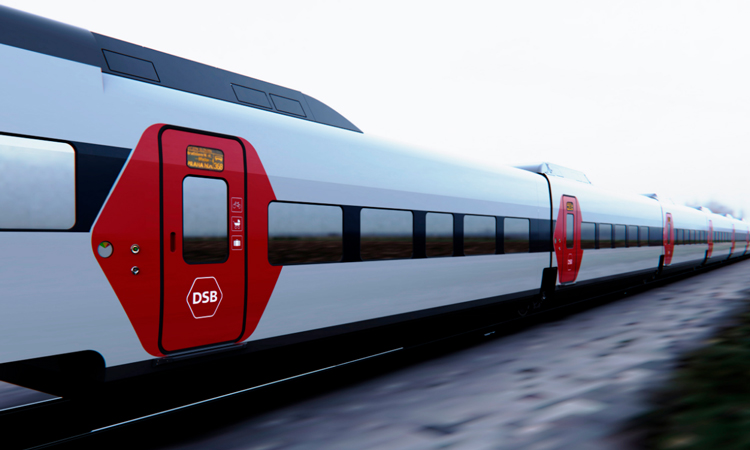 Credit: Talgo
DSB, the largest Danish train operating company, has awarded the contract for the supply of eight standard coach formations to Talgo, following an international competitive tendering process. The contract is a framework agreement allowing DSB to procure more single coaches and full formations in the future, with the eight trains representing the first order within the agreement.
Within the contract, Talgo is responsible for the delivery to DSB of eight full standard coach formations that are an iteration of the Talgo 230 conventional Intercity platform, each with a maximum capacity of over 440 seats, as well as any required spare parts for a period of 16 years.
The Talgo 230 train sets are fully aligned with the demanding technical rules enforced in Denmark and Germany, whilst also complying with the European-wide standard, Technical Specifications for Interoperability (TSIs). The units are able to reach a top speed of 200km/h and will feature wide bodyshell coaches, providing passengers with more interior room compared to other trains.
Carlos Palacio, President of Talgo, said: "Climate change is a challenge that requires decisive and realistic actions, and we are pleased to see that decision-makers from leading nations share our confidence that a swift transition to a decarbonised transport system based on efficient and lightweight railway transportation is one immediate answer to that challenge."
Due to the lightweight and efficiency of the vehicles, as well as the unique rolling assembly technology, Talgo trains enable a 30 per cent reduction of energy consumption, as compared with the industry standard. As a result, the trains support a further reduction of carbon emissions from rail transport in Denmark. These reductions are in line with the country's sustainability commitments to cut carbon emissions by 70 per cent from the 1990 level before 2030, and to become truly carbon neutral no later than 2050.
Palacio continued: "DSB's choice of Talgo's coaches acknowledges, among other features, the extreme lightweight features and superior energy efficiency of our trains, which are hallmarks that allow train operators like DSB to contribute decisively to the fight against climate change with tangible actions in the transport sector."