UWC receives RC FRT certification for two articulated hopper cars
The hopper cars have the potential to increase Russia's rail network's carrying capacity and reduce the price of transporting freight.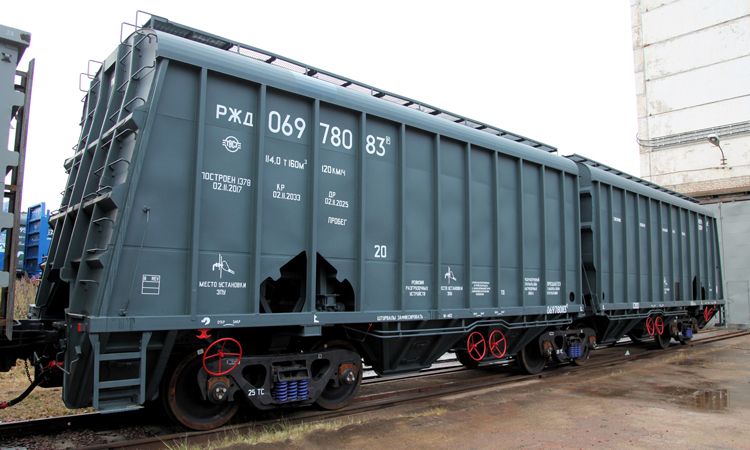 Credit: United Wagon Company
The United Wagon Company (UWC), which is the largest producer of freight cars in Russia, has announced that it has received RC FRT certification for two models of six-axle articulated hopper cars running on 25 tonne axle load bogies.
Due to the rolling stock's increased loading capacity and load per unit length, all participants in the transportation process see additional economic benefits for Russia – due to a lower cost of transporting freight as a result of savings made on freight charges – as well as the rail network's carrying capacity increasing while maintaining standard train lengths.
Deputy CEO for Commerce and Marketing at United Wagon Company, Boris Myagkov, said: "We are currently seeing high levels of competition on the grain market among exporting nations, production volumes of mineral fertilisers are increasing, and the demand for these products is growing domestically. UWC is, therefore, giving its partners the chance to make use not only of new generation cars on 25 tonne axle load bogies, but also articulated cars, which provide additional cost effectiveness in transportation."
The 19-6978 and 19-6978-01 model six-axle hopper cars have been designed specifically for the transportation of grain freight and mineral fertilisers, respectively. By having these particular cars in operation on Russia's network, it enables the increase of carrying capacity by 22 per cent and the reduction of the required fleet size by 38 per cent.
Myagkov continued: "The UWC-produced articulated hopper cars and gondola cars are now ready to be rolled-out onto the network, and the tank cars are already showing great operational results. In the near future, the company plans to certify its articulated flat cars, which are equipped to transport freight in interchangeable bodies, including hopper bodies. We believe that the growth in freight productivity is down to the articulated rolling stock."