Albanian Railways awards consulting contract for Tirana network modernisation
Albanian Railways has awarded a consortium the contract for the consulting and technical assistance services for the new project to upgrade rail connections with the country's capital, Tirana.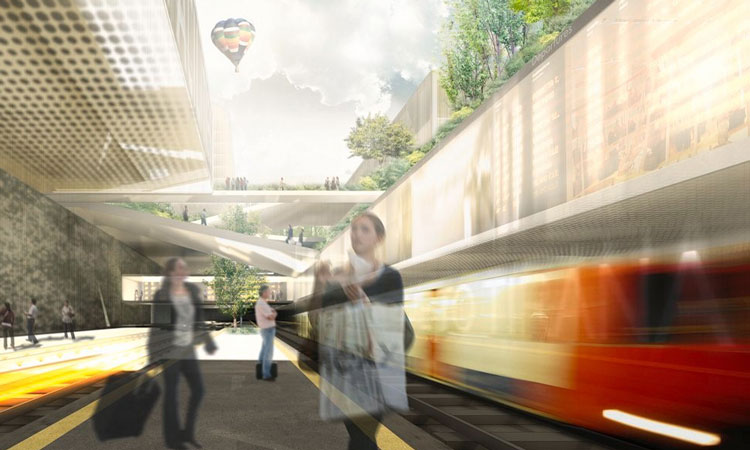 Tirana Multimodal Station proposal. Credit: Morfearch
The consortium, led by Ardanuy Ingeniería and also made up of Metrotenerife and SIM SpA Albania, will assist Albanian Railways (HSH) in the implementation of the tender and awarding phases of the works for the renovation of over 34 kilometers of the network between the Tirana Public Transport Terminal, PTT and the city of Durres. This contract also includes consulting services for the construction of a new five kilometre branch line and a transfer station connecting the Tirana-Durres Line with the capital's international airport.
The project forms part of the Western Balkans Core Network's Route 2 which will connect the cities of Podgorica in Montenegro and Vlore in Albania and has been included as one of the extensions of the Transeuropean Transportation Network (TEN-T) to this area. The project is financed by the European Bank for Reconstruction and Development (EBRD).
Over the four years of the contract, ending in January 2024, the consortium will be in charge of the advisory and review of all documentation needed for the correct development of the tender and work-awarding phases. It also includes technical support for the HSH Project Implementation Unit in order to guarantee that the work is properly executed. Additionally, the consortium will ensure that all procedures and requirements established by the EBRD are complied with.
When choosing the consortium, Albanian Railways took into account the different companies' experience in project management and civil engineering as well as their proven record in the transportation field.
Related organisations
Related regions