First double-decker KISS train runs in Hungary
The new 600-seater trains will reduce congestion and delays for the thousands of commuters to Hungary's capital, Budapest.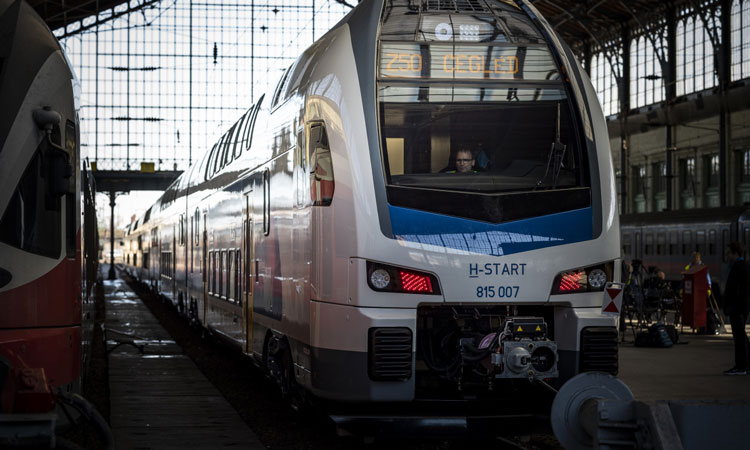 The first KISS double-decker train has entered service on the Budapest-Nyugati-Cegléd-Szolnok line in Hungary.
Operator MÁV-START aims to launch a total of 40 of the high-capacity, 600-seater vehicles by the end of 2022, with government support.
The new trains will also be operating on the Budapest-West-Vác-Szob line from the end of April. In both May and June, another six KISS trains are expected to be ready for passenger tests, with the eleventh due to start in August. The first-phase vehicles will travel to Cegléd and Vác on the two busiest suburban lines.
The modern six-car units will feature air-conditioning, an age-appropriate passenger information system, multifunctional spaces with the ability to carry four wheelchairs, 12 bikes or five strollers, Wi-Fi, power points for mobiles and laptops, a state-of-the-art camera system and wheelchair accessible washbasins.
Stadler was chosen by MÁV-START, to deliver the 40 KISS double-decker trains in a contract worth HUF 205.5 billion. An additional eight KISS will be launched later this year in the second and third phases of the framework contract, and another 21-decker motor trains will be available by the end of 2022.
"The 40 motor trains purchased with government support cost over 200 billion forints, so the railway company can offer 24,000 new seats for travellers," commented Tamás Schanda, Parliamentary and Strategic Secretary at the Ministry of Innovation and Technology (ITM). "Between 2016 and 2024, around HUF 1,800 billion will be spent on rail investments that have already been completed, are under construction or are in the pipeline."
Róbert Homolya, President and CEO of MÁV emphasised: "Rail passenger traffic is concentrated in the suburbs of Budapest. Double-decker trains run in the busiest suburban traffic. However, not only rolling stock, but also the railway tracks must be developed and maintained in order to ensure reliable and regular transport."