United Wagon Company signs additional flat car agreement with Dessa
United Wagon Company (UWC) and Dessa have signed an agreement on the supply of an additional batch of new generation 60ft-long flat cars for the transportation of timber freight.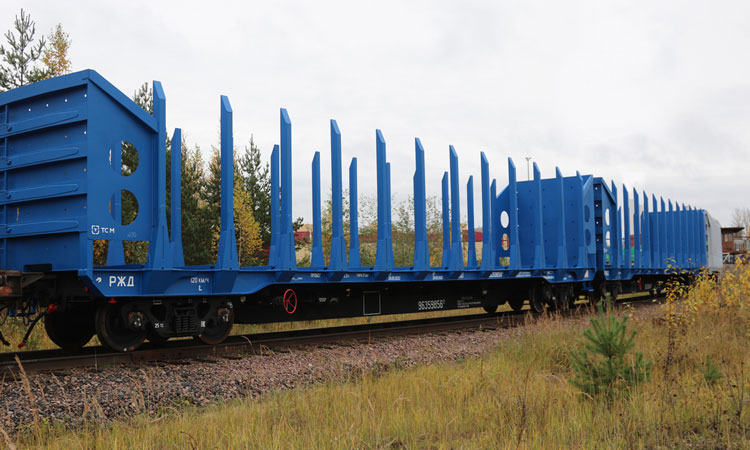 United Wagon Company (UWC), the largest producer of freight cars in Russia, will deliver the rolling stock to Dessa, a leasing company in the transportation services market, by the end of May 2020. The latest deal will raise the number of Tikhvin-produced cars in the leasing company's fleet to 65 units.
The deal once again involves the purchase of the model 13-6895 flat car (60ft) for the transportation of timber products. The rolling stock is noted for its higher loading capacity of 72.5 tonnes and increased body volume of 155m3. The Tikhvin-produced flat car can be loaded with up to 40 per cent more freight compared with equivalent models available on the market, while remaining eligible for the short wheelbase tariff, thanks to the loading length of 18,850mm and other technical solutions. The car's design reduces unused dimensional volumes and ensures that the car can be loaded without a 'freight cap'. The flat car is equipped with model 18-9855 bogies with a 25-tonne axle load, which have improved operational reliability, increasing the maintenance interval up to one million kilometres (or eight years). The flat car has a service life of 40 years.
Vyacheslav Pogudin, CEO of Dessa: "The railway rolling stock leasing market anticipates tough times ahead, and the drop in demand for universal cars is already being felt. In spite of this, however, specialised fleets are emerging as a promising segment, primarily on bogies with a 25-tonne axle load. There are several car-building companies currently producing innovative models. We began our cooperation with UWC in 2017, and so we are well acquainted with the new generation Tikhvin-produced cars. The same goes for our customers, including Sodex, who will be the recipient of the acquired rolling stock. We are delighted with the car's performance, which is why have opted for UWC once again."