Rolling stock orders for DB
In the middle years of this decade, the German rolling stock market was quiet. The big post-reunification boom in orders in the 1990s was followed by a lull, as the German government sought to rein in public spending and prepare Deutsche Bahn AG for privatisation.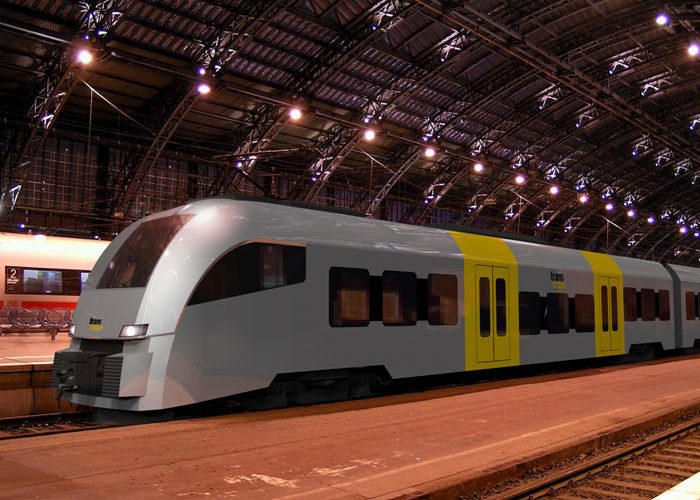 The quietening of the market was reflected in the figures for Siemens Transportation Systems, the large German railway equipment manufacturer, where the home market accounted for over a third of sales in 2003. By 2006, this proportion had dropped below 15% as Asia and other regions grew in importance while Germany stagnated.
However, the German market is now experiencing a modest rebound, with the regional sector particularly strong. Illustrating this was an order confirmed with Bombardier Transportation on 19 February 2007, when DB signed a framework contract for the supply of 321 new Talent 2 electric multiple-unit trains to be used on the regional network throughout Germany. This order is valued at approximately €1.2 billion and deliveries will begin in 2009.
The Talent multiple-unit is a standard Bombardier design, with more than 450 trains in service in Germany, Norway, Austria and Canada. Trains vary from two to six cars in length, with different propulsion power options available, depending on the number of driven axles. There are up to two swing-plug doors on each side of the car and the internal layout can be altered to suit operator needs.
More EMUs
Orders continue to be placed for suburban EMUs. A consortium of Bombardier and Alstom Transport won an order worth €343 milion at the close of 2005 for 78×4-car EMUs for the Rhein-Ruhr S-Bahn, with an option for a further 72 units. The trains are due to be delivered between March 2008 and October 2010.
All 312 bodies are to be manufactured at Alstom's Salzgitter plant, as are 156 end bogies. Also, 51 sets will be assembled there. Bombardier is drawing on factories from across Germany for its share of the order: electrical equipment will come from Mannheim and articulated bogies from Siegen, while Hennigsdorf (Berlin) will assemble 27 sets.
Meanwhile, an option was exercised last year for additional Class ET 425.2 four-car electric multiple units. DB signed a Euro 362 million framework agreement with a consortium of Bombardier and Siemens in 2001 which entailed the delivery of more than 80 of these trains.
The new call-off, worth €63 million, is for 13 additional trains: these are intended for suburban rail transport in the Hannover region, and are scheduled to be delivered from mid-2008. They should go into passenger service with the new timetable in December 2008.
As the consortium leader, Bombardier will manufacture nine of these Class 425.2 trains, while Siemens will build the remaining four. For its share of the contract, Bombardier will undertake the construction of the car bodies and final assembly of the trains at its site in Hennigsdorf; the bogies will be manufactured in Siegen, while the electrical fittings for the nine trains will be produced by the firm's facility in Mannheim. The Siemens trains will be manufactured at that company's Krefeld plant.
A total of 236 multiple-units from the 425 Series have been delivered since March 2000 and they are in operation in the regions of Hannover, Mannheim, Stuttgart, Essen, Magdeburg, Trier, Saarbrücken and Cologne. The Class 425s have a maximum speed of 140km/h and can accommodate 433 passengers, 204 of which seated. The four-car units are 67.5 metres long and 2.84 metres wide, and have an entry height of 798 mm.
Double-deckers
Double-deckers were produced in factories in the former East Germany for many years and following reunification and the plants' acquisition by Bombardier, suburban double-deckers have become a staple in that firm's catalogue. DB operates a total of more than 1,400 Bombardier double-deck coaches, and Bombardier double-deckers are also in service in Israel, Denmark and Luxembourg.
DB placed an order last October for 42 more double-deck vehicles, which was valued at about €57 million. This represents the third option in a 2003 framework agreement that included an order for 298 double-deck coaches and options on another 300 vehicles. Delivery of the 298 double-deck coaches of the base contract is nearly completed, and another 49 vehicles were ordered in 2005 and 2006. The new vehicles are to be delivered during the second half of 2008.
The double-deckers will be built at Bombardier's Görlitz site, while the Siegen plant will supply the bogies. Most of the 12 cab and 30 trailer cars of this Deutsche Bahn order will go into service on the Taunus route in Frankfurt-am-Main; three cab cars are envisaged for operation in South Hesse.
Concessionaires
The local lines for which regional government is responsible have been generating a steady trickle of orders. Manufacturers have been scoring with orders for lightweight multiple-units.
A recent example is an order for 25×4-car Flirt electric multiple-units won by the Pankow (Berlin) factory of Swiss manufacturer Stadler. Angel Trains Europa, the Continental arm of the Royal Bank of Scotland's rolling stock leasing subsidiary, is financing this €100 million order. The trains will be brought into service from the end of next year onwards by Keolis, which has the concession to operate regional services around Hamm.
Another company being supplied with rolling stock by Angel is trans regio Deutsche Regionalbahn GmbH, which signed a contract in January 2007 for the Mittelrheinbahn concession, a rail service on the scenic route between Mainz and Cologne. The concession will commence in December 2008 and will run for 15 years.
For the Mittelrheinbahn Angel is purchasing 16 Desiro ML electric multiple-units, worth approximately €70 million, from Siemens Transportation Systems. Work will commence on manufacturing the trains in July at Siemens' works in Krefeld. The agreement between Siemens and Angel Trains includes an option for a further 84 trains.
This latest order takes the total fleet of passenger trains now managed or ordered by Angel Trains Europa, the Cologne-based German subsidiary of Angel Trains, to over 220 units altogether, comprising 60 electric multiple-units.
Regional trains for DB
DB's regional arm, DB Regio AG, has ordered 37 Coradia Lirex trains worth €160 million from Alstom Transport. This order includes an option for up to 42 additional trains. The electric multiple-units will be manufactured at Alstom's site in Salzgitter and are planned to be delivered between mid-2008 and the end of 2011.
These trains will enable DB Regio AG to renew its train fleet on the Augsburg network in Bavaria. They will enter service from December 2008 onwards and serve the Munich-Augsburg-Ulm and the Augsburg-Donauwörth-Aalen/Treuchtlignen lines. The first Coradia Lirex trains were introduced in 2002, and Alstom has sold a total of 108 trains of this type in Europe (71 of them to Stockholm, Sweden).