Moving ahead with Australia's Inland Rail freight project
Australia is a vast country, and its freight challenges are unique. The long‑touted solution to long‑haul rail freight in Australia is the 1,700km Inland Rail project, which is now becoming a reality. Richard Wankmuller, Inland Rail's CEO, provides a project update and outlines the key benefits and opportunities that Inland Rail will create for Australia.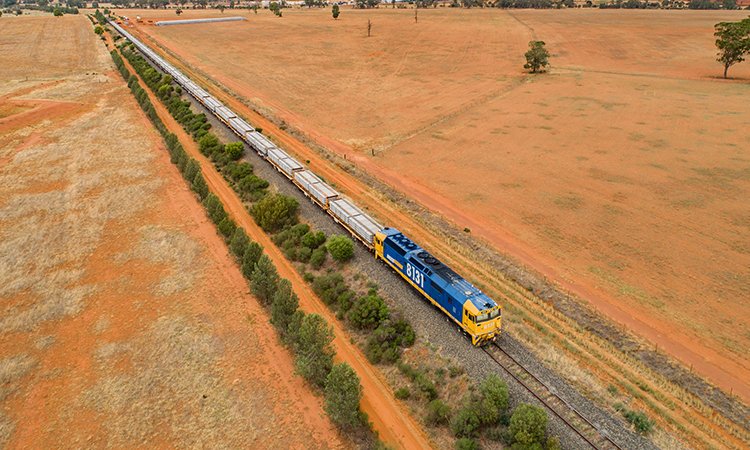 Sleeper delivery in Parkes ahead of construction on Inland Rail.
Inland Rail is a once-in-a-generation infrastructure project which will create a fast‑freight backbone along the eastern regions of Australia, covering more than 1,700 kilometres, from Melbourne to Brisbane (the country's second and third most populous cities), and running through key regional centres.
This project will be a vital network of world‑class rail infrastructure that Australia needs to future‑proof the nation's freight network for the next 100 years and is set to transform how Australians move goods.
It is the largest freight infrastructure project in Australia – designed to enhance supply chains on the east coast of Australia and drive a fundamental modal shift from road to rail. 
The key is in the project being fast, flat and straight – coupled with the productivity benefits offered by double-stacked container trains. 
While predominantly for domestic freight movements, this project will also drive substantial cost savings for producers, farmers and miners. It is also anticipated to drive new value-added and manufacturing industry development in regional hubs along the project alignment.
The international experience shows that highly efficient rail freight systems drive economic growth and support the competitiveness of domestic producers on a global scale.  
It is set to be a key component in reducing freight costs, better linking businesses and producers to markets, and reducing our reliance on roads to move our growing volumes of freight.
The current north-south freight infrastructure (both road and rail in Australia) is already constrained. Inland Rail is a strategic initiative to make a decisive step change in the capacity, productivity and interoperability of the national freight task. 
Inland Rail is critical to help share the load. That's why Inland Rail is recognised as a 'Priority Project' on the Australian government's infrastructure priority list.