Moving ahead with Australia's Inland Rail freight project
Australia is a vast country, and its freight challenges are unique. The long‑touted solution to long‑haul rail freight in Australia is the 1,700km Inland Rail project, which is now becoming a reality. Richard Wankmuller, Inland Rail's CEO, provides a project update and outlines the key benefits and opportunities that Inland Rail will create for Australia.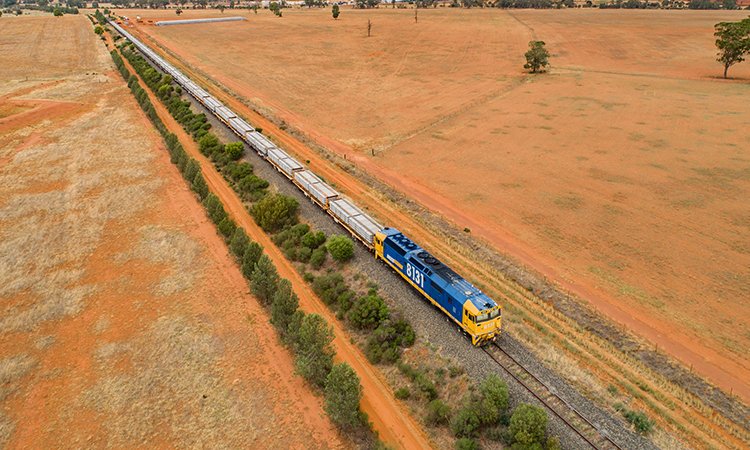 Sleeper delivery in Parkes ahead of construction on Inland Rail.
Inland Rail is a once-in-a-generation infrastructure project which will create a fast‑freight backbone along the eastern regions of Australia, covering more than 1,700 kilometres, from Melbourne to Brisbane (the country's second and third most populous cities), and running through key regional centres.
This project will be a vital network of world‑class rail infrastructure that Australia needs to future‑proof the nation's freight network for the next 100 years and is set to transform how Australians move goods.
It is the largest freight infrastructure project in Australia – designed to enhance supply chains on the east coast of Australia and drive a fundamental modal shift from road to rail.
The key is in the project being fast, flat and straight – coupled with the productivity benefits offered by double-stacked container trains.
While predominantly for domestic freight movements, this project will also drive substantial cost savings for producers, farmers and miners. It is also anticipated to drive new value-added and manufacturing industry development in regional hubs along the project alignment.
The international experience shows that highly efficient rail freight systems drive economic growth and support the competitiveness of domestic producers on a global scale. 
It is set to be a key component in reducing freight costs, better linking businesses and producers to markets, and reducing our reliance on roads to move our growing volumes of freight.
The current north-south freight infrastructure (both road and rail in Australia) is already constrained. Inland Rail is a strategic initiative to make a decisive step change in the capacity, productivity and interoperability of the national freight task.
Inland Rail is critical to help share the load. That's why Inland Rail is recognised as a 'Priority Project' on the Australian government's infrastructure priority list.
Freight demand
Australia's freight demand is set to grow by a third (35 per cent) by 2040, with freight demand between Melbourne and Brisbane (Australia's two fastest growing regions) set to increase by more than 50 per cent in the next 10 years.
With Australia's population predicted to grow by 60 per cent – to more than 40 million people – over the next 40 years, Inland Rail will help to keep pace with the increasing freight demands of our growing population. 
Two thirds of freight carried on Inland Rail by 2050 will be for domestic use – that includes household whitegoods, food, medical supplies and industrial equipment. Australia can't keep relying on roads and heavy vehicles to carry out this increasingly difficult task.
By 2040, we will need to move more than 14 million tonnes of freight between Melbourne and Brisbane – that's almost double the freight that our roads and current rail network handle now. Inland Rail will greatly improve this situation, and eventually be able to handle 50 to 60 per cent of this freight. 
Beyond just moving freight, the Centre for Economic Development of Australia (CEDA) forecasts that the cost of road congestion will be at least $30 billion to $50 billion a year by 2031. Shifting freight from road to rail is a key part of reducing this congestion and lost economic performance.
Ultimately, Inland Rail will help to shift the way that we move freight across Australia – transforming the way businesses plan and develop off the back of a highly efficient transport link.
An engineering dream
Inland Rail is also a project that engineers dream about. The project's sheer scale and complexity has attracted some of world's top rail engineering and infrastructure delivery experts, who are designing solutions to meet the complex environment that a nation like Australia presents.
For example, the six-kilometre freight tunnel through one of the largest mountain ranges in Australia will be the second-longest in the Southern Hemisphere, and the viaducts, with the tallest being the same as the shipping height of the Sydney Harbour Bridge.
But, in Australia, we are not just planning for Inland Rail – it is already becoming a reality, and construction has begun.  
The Inland Rail project is made up of 13 individual segments, with the first section (Parkes to Narromine) now completed and commissioned, while the second section is currently under construction. 
It is predicted that Inland Rail will create more than 16,000 jobs during construction over its lifetime, with more than 90 per cent of these jobs set to be based in regional areas across Queensland, New South Wales and Victoria.
The first completed section was the 103km-long Parkes to Narromine segment in central New South Wales, which highlights how the project is revitalising local economies in regional areas.
Parkes to Narromine saw more than $80 million (USD) spent with 99 local businesses through the segment and 1,862 people working on the project, including 302 indigenous Australians.
The employment benefits that the project has delivered in the past two years have been welcome, especially during 2020, where COVID-19 has impacted employment. 
In the small country town of Parkes and surrounding localities, employment prospects actually improved during COVID-19 and the recent drought, thanks to projects like Inland Rail – whereas other local economies were dramatically impacted.
However, the economic benefits go far beyond job creation. Inland Rail is about our country's future prosperity.
Fast facts – Manufacturing and construction stats from Parkes to Narromine:
14,000 tonnes of steel rail supplied by Liberty Steel Whyalla, South Australia
800,000 tonnes of ballast and capping from Parkes-based companies Calvani Crushing and Ausrock Quarries, NSW
200,000 concrete sleepers from Rocla in Mittagong, New South Wales

 

26,625 tonnes of culverts from Holcim, Tamworth, New South Wales
365,000 rail clips from Pandrol, made in Blacktown, New South Wales.
A low emission future
Inland Rail is also a critical part of Australia's lower emissions future, as moving freight by rail is four times more fuel-efficient than moving freight by road.
Cutting rail freight travel time between Melbourne and Brisbane by almost a third through the construction of Inland Rail, from 33 hours to less than 24, will make rail time-competitive with road.
A key element of this project is allowing the movement of double-stacked trains to travel long distances between key Australian cities – one 1,800m, double-stacked freight train can carry the same amount of freight as 110 B-Double trucks.
What this means is that, once fully operational from 2050, Inland Rail will cut carbon emissions by 750,000 tonnes every year through 200,000 fewer truck movements on our roads.
Ongoing construction
We're also getting on with the job of building Inland Rail. Construction on the second segment of Inland Rail in the Northern part of New South Wales, between Narrabri and North Star, is now underway.
This project includes upgrading approximately 171km of existing track between Narrabri and North Star. 
Over the past 18 months, we have been preparing for this project to begin, and we have already delivered 341,225 sleepers from Mittagong and Wagga Wagga, New South Wales, and 24,775 tonnes of Whyalla steel in South Australia to the alignment in preparation for these works to start.
So, we at ARTC are proud champions of rail as a cost-efficient, reliable, safe and responsible mode of transport, but we also realise that we cannot deliver this project without the help of local knowledge and insights from landowners, businesses and communities. 
Here in Australia, we fully realise that it is through industry, government and the community all working together that we will be able to unlock the opportunities that Inland Rail will create for Australia

Richard Wankmuller was appointed as CEO of Inland Rail in April 2018 and oversees the delivery of both the development and construction elements of the project. Richard has more than 35 years' senior management experience in both the private and public sectors and has held both executive and non-executive Director positions with some of the world's largest global engineering and construction companies. Although having lived in Australia for some years, Richard's time in the USA and Europe has added a global perspective to his approach to the planning, financing, design and delivery of large infrastructure projects and programmes. He has helped clients develop and deliver more than $35 billion-worth of infrastructure programmes across a wide variety of stakeholder interests, in many parts of the world.