Enhancing connectivity on the East Coast with LNER
Danny Gonzalez, Chief Digital and Innovation Officer at British train operating company, London North Eastern Railway (LNER), explains how they are leading the way to bring digital innovation and connectivity to UK rail.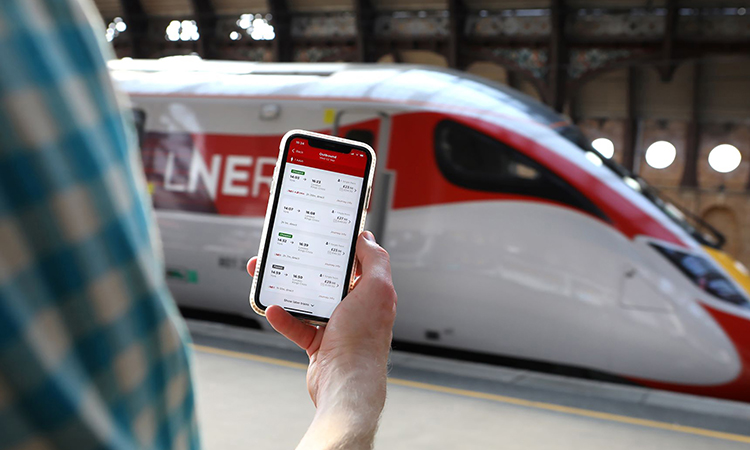 Ensuring customers are connected delivers a huge range of benefits for both the customer and LNER.
When speaking about connectivity in the rail industry, I believe that most people would first think about the literal connections that we make between people and places. At LNER, we're well aware of the vital service that we deliver in providing regional and inter‑city connectivity and have improved this area substantially, with direct regular services to London from destinations such as Harrogate and Lincoln. However, when it comes to keeping our customers digitally connected, we are just getting started.
If I think about my own day-to-day life, I'm connected all the time. I'm on my phone or social media looking at the news, on Teams or Zoom, or on calls and email for work, especially whilst on the move. At home, my whole family are online – from Netflix to BBC iPlayer, to Amazon Prime, to the kids gaming and doing their homework. 
Our insight shows us that being connected is important for both our business and leisure customers and has been for quite some time. We are, therefore, striving to provide our customers with free, high quality online access whilst on the move, in our stations and onboard. We know that they really feel the impact of having poor Wi-Fi or phone signal. We face a number of challenges when it comes to meeting and exceeding customer's expectations in this area, from tunnels (such as to the north of London King's Cross) to cuttings, not to mention our trains travelling at 125mph – a challenge not easily overcome.
Since the start of the COVID-19 pandemic, there's been a surge in internet usage, as well as mass adoption of multiple streaming services and video conferencing platforms for both business and for keeping in touch with friends and family. 
We're working hard to find solutions in all of these areas and to meet the new needs and expectations that have been expediated as a result of COVID-19. 
Boosting coverage and continuous connectivity
In June 2020, we announced a pioneering partnership with mobile phone operator O2 to boost network coverage along a 45-mile stretch of the East Coast route between Newcastle and Edinburgh.
The boost to mobile coverage will not only benefit customers travelling on-board train services through the North East of England, but also the many communities where limited or no signal currently exists in North Tyneside and Northumberland.
Our new Azuma trains already offer the best Wi-Fi yet for customers on the route, so this latest development will further enhance the experience for those relying on staying connected when travelling at speeds of more than 100mph. 
To support this, planning permission for the first of up to 12 masts has been approved by Northumberland County Council, with the final phase of the project seeing 5G available within Newcastle Central Station by summer 2021.
We're also trialling next generation edge‑casting technology in a proof of concept on three Azuma trains, as a global first in rail. Working with Vodafone and Netskrt, the technology allows us to cache content that we know our customers expect, such as BBC iPlayer and Amazon Prime Video, enabling customers to log into their personal accounts and access HD streaming content whilst travelling. We're testing to see how this improves the overall experience, with the aspiration of engaging customers to use video services such as Teams and Zoom on-board, for business, whilst on the move. 
Being continuously connected is one of the major benefits of making long-distance journeys by train compared to other methods of transport"
As these projects progress, we hope to learn more about how we can replicate and scale our approach to other services and locations across the East Coast for the benefit of those travelling, working and living along our route.
Being continuously connected is one of the major benefits of making long-distance journeys by train compared to other methods of transport. Whether customers are travelling for work and want to use their time productively or if they're just keen to listen to their favourite podcast, we need to enable them to do so and support their technology as much as possible. 
On-board catering
An area of our customer experience where we've made swift progress is in our 'Eat at your Seat' on-board catering offer, which delivers food directly to customers in their seats. People are accustomed to ordering food and drinks whenever they want on their personal smart devices, so why not on a train, too?
In a first for the UK rail industry, LNER began trials during the summer of an 'at-seat' catering offer onboard. The service allows customers to order and pay for food and drinks from their phone in the comfort of their own seat, without having to visit the onboard cafe bar. 
Customers in both Standard and First Class can browse the menu, accessed via a QR code, in their own time and order at their convenience, enhancing their onboard experience and improving their journey with us.
The service provides a layer of confidence and confidence to customers who are looking to stay seated for the duration of their journey, avoiding having to leave their belongings, minimising physical contact and supporting social distancing measures. Research conducted during the trial found 100 per cent of customers surveyed were satisfied with the proposition, and 98 per cent said it would positively impact their consideration to travel with us again. Interestingly, customers also spend more as they have more time to peruse the full menu offer compared to visiting the physical Let's Eat cafe bar. 
We are always looking for new ways to provide excellence in our customer experience on-board, and this new 'at-seat' catering service allows us to extend our food and drink offer to more customers from the comfort of their own seat.
The LNER Assistant
It's not just the on-board environment where we're looking to empower our customers through the use of technology. We're also continuing to enhance our LNER Assistant – supporting our customers more comprehensively throughout their journey. The service sends customers accurate real-time personalised information – such as platform notifications for boarding, delay alerts and updates if anything changes – so that they are not left in the dark. We even warn them if the weather is likely to be bad at their destination before travel. 
In times of disruption, providing the right information directly to a customer in real-time is vital. The system takes information from rail industry sources, as well as social and external data feeds, to identify delay incidents. This then triggers automatic messages to customers, which they can opt to receive through Facebook Messenger, the LNER app or via SMS.
The LNER Assistant has, for the first time, allowed us to extend the scope of who we are able to support – from only customers who booked directly through the LNER website, to now include those customers who booked through third party retailers and travel centres. These indirect LNER customers can simply register their ticket on the LNER website and receive the same updates as direct customers. Additionally, we are developing our geo-targeting capabilities with our upcoming last mile transport booking tools, working with iomob – a global leader in Mobility as a Service (MaaS) – to recommend the optimum times for customers to book their taxis, bike, scooters or even car hire for their onward journeys through the LNER app. The positive impact from this is huge for LNER, as we can now support a much larger subset of our customers in alleviating common causes of anxiety and stress and increase customer satisfaction levels further.  
Ensuring that customers are connected therefore delivers a huge range of benefits for both the customer and LNER. We can provide a far more personalised service, communicating directly in real-time, and the customer gains the ability to seamlessly use their devices as if they were at home or in the office. 
We have made a significant amount of progress, but we are ambitious and excited about the potential of our industry in the area of connectivity. By harnessing modern technology and maintaining a focus on customers, we can – and are – innovating to deliver the next step change in rail travel.

Danny Gonzalez has spent over 20 years with responsibility for developing and implementing successful digital transformation, brand development, marketing, customer loyalty, and CRM strategies and solutions. Over this time, he has held senior roles at Virgin Atlantic, Virgin.com, Trainline, Virgin Trains, and now as Chief Digital and Innovation Officer at LNER.