Setting a new benchmark for passenger connectivity with 5G mmWave technology
FirstGroup have successfully completed a trial of the 'rail 5G' gigabit track to train solution on the Isle of Wight, paving the way for full commercial deployment on Britain's busiest railway. For Global Railway Review, Simon Holmes, FirstGroup's Head of Engineering Digital Communications and Managing Director of Evo-rail (a FirstGroup company), and Mark Barrett, Chief Marketing Officer at Blu Wireless, explain more.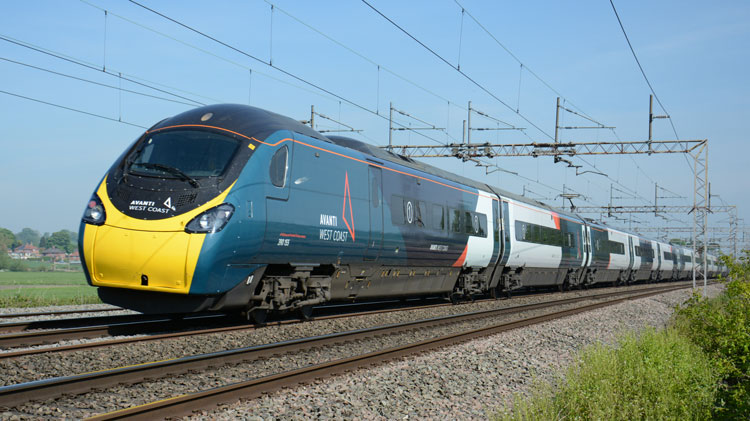 Carrying 345 million passengers over almost nine billion miles across four franchises, FirstGroup is one of the UK's largest and most experienced rail operators. It operates four UK rail franchises – Avanti West Coast, Great Western Railway (GWR), South Western Railway (SWR) and TransPennine Express – and one open access passenger rail service, Hull Trains. It is also a 'shadow operator' on the HS2 programme and operates the London Trams service on behalf of Transport for London (TfL).
Leading on one of the largest roll outs of Wi-Fi on the UK rail network, FirstGroup is continuously embracing new technology to enhance the customer experience for its passengers and on-train system providers.
Challenge
Passenger, operator and infrastructure providers demand for reliable, high quality connectivity is continuing to rise, driven by the growth of data-intensive applications and especially the insatiable appetite of passengers for video-driven content delivered to their personal devices. The UK regulator Ofcom has assessed that the demand post-2025 on a busy mainline train will exceed one Gigabit per second (Gbit/s) for a typical train which, for a crowded commuter train or on-train operational systems, would further increase to two to three Gbit/s. Ofcom further concluded that only mmWave spectrum (defined as that above 30 GHz) has sufficient bandwidth to support this level of demand.
This is a level of performance that is almost impossible without the emergence of mmWave technologies. The current approach used by train operators is based on aggregating multiple 4G signals into a data stream and then deliver it through in-carriage Wi-Fi access points. Such mobile connections typically deliver 10-50 Mbps per train, which is insufficient to meet the needs of trains that will again soon carry up to 1,000 passengers – hence, the resulting connectivity experience falls well below passenger needs and expectations.
There is a wide variety of well-funded programmes to address poor connectivity, but it remains a significant challenge due to the combination of railway topography, such as tunnels or deep cuttings, as well as lack of spectrum and the inadequate returns on investment.
By leveraging mmWave technology, rail operators can now implement rail-5G as a fast, dependable and affordable route to delivering gigabit throughput to meet current and future passenger and on-train system demands. The rollout is 'plug and play' and has been developed to not only put safety first, but also be quick and easy – wherever possible making use of existing infrastructure to still further enhance the economic case.
A ground-breaking partnership
A ground-breaking partnership between FirstGroup and Blu Wireless has been created in order to deploy this rail-5G solution for the worldwide rail industry, which will transform passenger customer journeys forever, enabling HD video conferencing, 3D gaming, video streaming, secure access to office applications and rapid browsing while travelling at high speeds. Train operators will also be able to utilise 'uplink' capacity from the rail-5G system for other rail applications, such as CCTV for security, rolling stock condition monitoring and infrastructure asset management.
The solution has been successfully trialled at Network Rail's Rail Development and Innovation Centre (RIDC) and on the Island Line on the Isle of Wight.
Covering 10 miles of the Island Line, this implementation transmits signal from sophisticated trackside (DN) access points installed on poles. Complimentary active on-train (TN) antennas installed on the front and rear of the train receive the ultra-high bandwidth via highly directional pencil beams. Real time control algorithms are used to maintain beam connection between the multiple DNs and TNs as the train progresses along the track and passes each DN. As a train approaches a trackside node, a pencil beam connects it with the antenna on the front of the train. The beam moves electronically to keep the connection as the train passes by, while the connection is also established with the antenna at the rear end of the train. This 'make before break' approach ensures that there are usually multiple connections to the train and no breaks in the connection, even when the train is travelling through a deep cutting, thus providing a consistent Wi-Fi experience for passengers.
An IP-based trackside network ensures that train data is passed at up to 10Gb/s to and from the internet. This maintains the exceptionally low latency of the radio network, whilst keeping the active components to the minimum. This is further enhanced by breakout to the internet at regular intervals to ensure end-to-end traffic management to maintain performance, even when at its busiest, with every train consuming 1Gb/s each rather than sharing it.
The Isle of Wight has proven that the rail-5G solution is safe, reliable, durable and ready to be rolled out commercially on South Western Railway (SWR) in 2021. The first deployment will cover the busiest section of Britain's busiest railway – a 70km stretch of track along SWR's commuter and intercity route into London Waterloo, from Basingstoke to Earlsfield, and available on over 200 trains operating on this busy line.
Benefits and opportunities
The combination of gigabit-grade data rates with cost-effective and low-power operation is instrumental to providing SWR passengers with best-in-class on-train Wi-Fi services. The resilient rail-5G technology can support extremely data-intensive applications, demanding up to 1Gbps, from today's HD video streaming to tomorrow's VR headsets.
The reliable, modern rail experiences created by the partnership of FirstGroup and Blu Wireless are also geared towards incentivising public transport more broadly, which could help to reduce road congestion and carbon emissions in the future – rail-5G aims to be carbon neutral by 2025, based on self-powering, solar cell-wrapped poles that are currently being trialled.